Behind the Scenes of the Academy Awards Governors Ball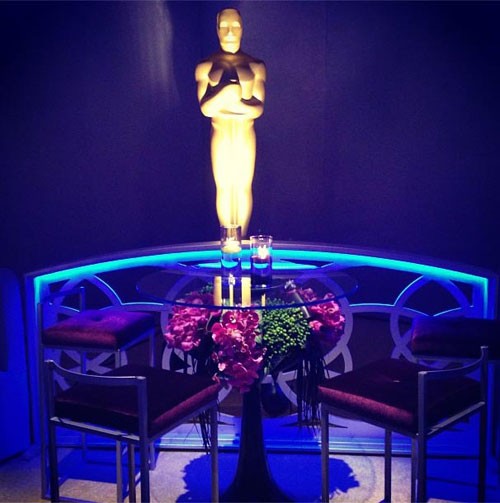 This week, Starpulse was able to get a behind the scenes look at this year's Governors Ball.  It is the official afterparty once the Academy Awards show has wrapped.  Approximately 1,500 guests including winners, nominees, and presenters, are invited to the ballroom next door.  The spread that is waiting for them inside is breathtaking.
This year's colors of aubergine, champagne, and chartreuse will greet the guests under a 120-foot chandelier and an 18-foot golden Oscar as the focal point of the room.  Guests like Bradley Cooper and Anne Hathaway will nosh on food prepared by Master Chef Wolfgang Puck who will serve everything from lobster to caviar to comfort food like Chicken Pot Pie.  
As Puck told us, "No one will leave the ball hungry."
The cocktails range from Sterling Vineyards wine to the U.S. debut of the French champagne, Thiénot, to some delicious Patrón tequila and vodka drinks that go down a little too easily.  
Join us as we take a tour of the ballroom that all of the celebrities will experience on Oscars night and then watch our adventure making the official cocktail of the Academy Awards.  
How to make the official Academy Awards Patrón Cocktail