Behind The Scenes Of 'Make It Or Break It' With Ayla Kell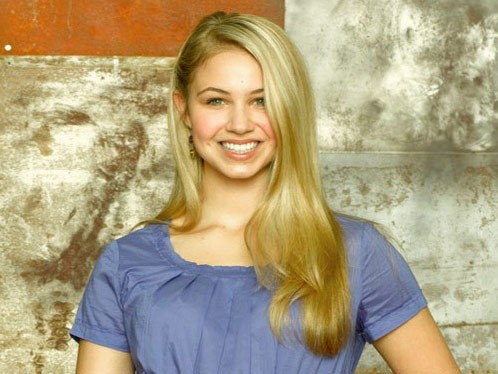 Anyone that knows me personally can attest to my affinity for the sport of gymnastics.  I have followed gymnastics since Mary Lou Retton won the All-Around gold medal in the 1984 Olympics.  I was completely into the sport:  hook, line, and sinker.  Even though I have never participated in the sport, I believe my training as a dancer always enhanced my appreciation for gymnastics.  In 2009, ABC Family introduced a new series, 'Make It Or Break It' (MIOBI), and even though I wasn't the network's core demographic, I knew the show would wind up on my weekly DVR list.

Last week, I was fortunate enough to interview Ayla Kell who stars as Payson Keeler on the show.  Since the show requires a level of athleticism and acting chops from their cast, I knew that getting the behind the scenes scoop from Ayla would be fascinating for both fans of the show and fans of the sport.  Ayla grew up training as a dancer, so she already had a foundation of movement in her background.  However, she found huge challenges during the training period before shooting their first season.  Kell says, "We had to start learning some of the gymnastics stuff to start to work like that.  I don't do any upper arm stuff; dancers don't need that.  It was definitely an adjustment."  The cast will often hit the gym up to three weeks before shooting begins to get into shape and it can be tough after five months off the set to get back into gymnastics shape.

The MIOBI cast doesn't have a typical Hollywood set either.  They work closely with stunt doubles who are often former elite, Olympian, or NCAA champion gymnasts.  It's not as simple as getting into hair and makeup and heading to the set to act.  Kell mentions, "It can start to get really hectic on set to do all of the different elements of a routine.  We can have three Paysons [and] four Emilys doing one routine.  The stunts are done first and then I will run in to finish it up [for the salute at the end of the routine]".  The hard work of creating a seamless routine is left for the editors in post-production. It clearly proves this show is not a simple one to shoot.

With all of the training and working around elite athletes, Kell has gained some of her own gymnastics skills from all of the training and can "get up on everything [all gymnastics equipment] now.  Which is more than I could say before. And I can get from the low bar to the high bar."  All of the dancing on the show is done by Kell too, so "this [show] was the perfect way to meld the two things I do together-acting and dancing."  In fact, most of the core cast has an athletic background of some sort, but Kell admits, "we all struggled equally with arms".  Gymnastics really does require tremendous upper body strength.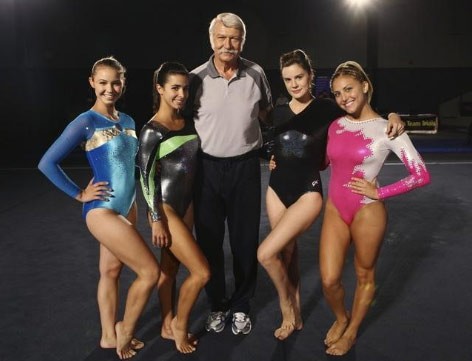 One of the biggest challenges of Season 2 has been shooting around castmate, Chelsea Hobbs' (Emily Kmetko), real-life pregnancy which was written into the show.  Hobbs was already visibly pregnant before the storyline caught up, so the director worked hard to shoot her above the waistline and the wardrobe department provided plenty of baggy sweatshirts.  Kell reveals, "that at times she didn't know how they were going to do that.  Chelsea is so naturally slight and little, but they ended shooting with stunt doubles when they needed her in the background.  We got to the point, when they needed a team lineup, they shot our backs."  Yep, even Hollywood magic with camera angles and techniques cannot hide a growing baby bump.  

The benefit of working on a show that highlights the sport of gymnastics is the former elite gymnasts they get to work with. Besides the stunt coordinator, the stunt doubles like 2000 Olympic Team Bronze medal winner and NCAA All-Around Champion for UCLA, Tasha Schwikert, assist with the conditioning programs for the cast.  Kell fondly calls Schwikert, "badass" because she's a tough trainer and she has a flawless athletic body.  Kell laughs, "every time she is near me in a shot, I tell them don't put that next to me!"  They even utilize famed Hollywood stuntwoman and former UCLA Bruin, Heidi Moneymaker for the MIOBI pilot.  Kell says, "I think she's become the highest paid stuntwoman in Hollywood", so the show really does draw top talent in the stunt arena.  A wonderful result from the show's existence is that it has offered an incredible opportunity for former elite gymnasts in Hollywood after their NCAA career has ended.  Kell finds the gymnasts " a huge resource on set…because we are playing out their lives on the show."  

It is evident that Ayla Kell has a reverence for the sport and she understands that "the gymnastics is the core part of our show and it's the most important part.  I think the worst thing we could do is offend gymnastics people and in any way offend our gymnasts."  She goes on to praise MIOBI's creator, Holly Sorensen, by saying Sorensen "has found a great balance of gymnastics and drama in our show".  With topical storylines from anorexia to teen pregnancy, Sorensen is trying to balance those issues that affect teens and female athletes all at the same time.

Now that the cast is deep into Season 2 and the season finale is rapidly approaching on May 23rd, I was curious to know where Kell saw her character, Payson, going in a crucial athletic year. Does Payson make the Olympic team in 2012?  "I definitely think she does.  I think it will be a turning point for Payson where she marries who she is as a person into her gymnastics….instead of letting [the sport] define her as a person."  Well, none of this can be realized without a Season 3 pickup order from ABC Family.  The cast will find out their fate on June 21st and hopefully, Ayla Kell will realize her character's dream for the 2012 Olympic team.  

Watch ABC Family's Make It Or Break It, Monday nights at 9 PM.