Behind The Scenes Of ABC's 'Winter Wipeout'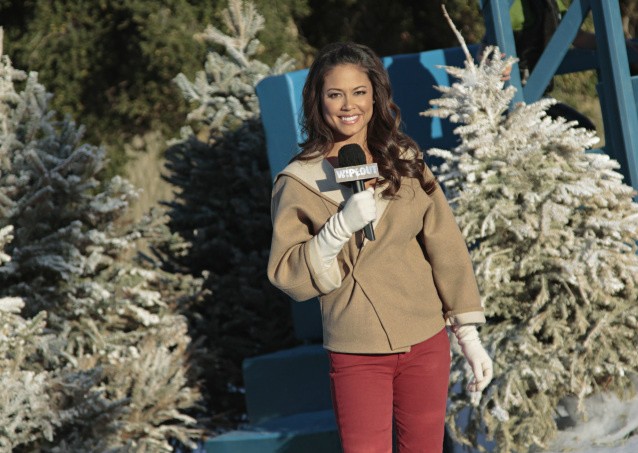 Joining the Wipeout team is Vanessa Lachey, who replaces Jill Wagner as the on-the-course co-host. Keeping warm next to one of the many space heaters set up amongst the crew, she remained undaunted by the temperature or the late hour, enthusiastic about coming aboard.
"I got to meet Jill when she was finishing up season four. I was like, 'Oh, I hope I do it justice' and she was like 'Please, it's just like bringing a whole new personality to it.' She's off doing her own thing and it's like a whole new vibe," she said. "The biggest challenge for me is maintaining the integrity of what Wipeout is but also [to] bring my personality to the table. Until it airs, I won't know how it comes out. We'll see.
"It's honestly been one of the easiest transitions in terms of work," she continued. "I've gelled with everyone here. It sounds really cliche but it's so true."
Her affection extends to the contestants as well. "My heart goes out to all of them. I want to hug them," she admitted. "Especially because there's no second place. It's $50,000, winner, champion and then nothing."
Unlike Kunitz and Pennington, Lachey is just waiting for her crack at the Wipeout obstacles.
"I am jonesing to. I want to get out there. All the powers that be are all 'Wait until you film the first season.' They don't want me to be a bit wobbly when I'm doing my standups," she said with a laugh. "But I have the same mentality that all the viewers at home do. It makes you want to get out there and do it yourself."
Winter Wipeout airs tomorrow night at 8 PM ET/PT on ABC. You can catch a clip below. Goodnight, and big balls!
(c)2011 Brittany Frederick/Digital Airwaves. Appears at Starpulse with permission. All rights reserved. No reproduction permitted.