Behind The Scenes Of ABC's 'Winter Wipeout'
It's not Christmas season until someone gets hit with a big red ball.
At least that's the prevailing thought at ABC, which rolls out its winter edition of Wipeout tomorrow night at 8 PM ET/PT. Before the fake snow starts falling and the spills start happening, I visited the set of Winter Wipeout to give you an inside look at the most hilariously painful show on television.
For the uninitiated, Wipeout is a competition where contestants of all sorts - and often eclectic personalities - brave increasingly more difficult and more hilarious obstacles en route to the "Wipeout Zone" and a potential $50,000 prize. In the winter edition, these obstacles have festive names like "Nutcracker" and "Jingle Balls."
And they look something like this.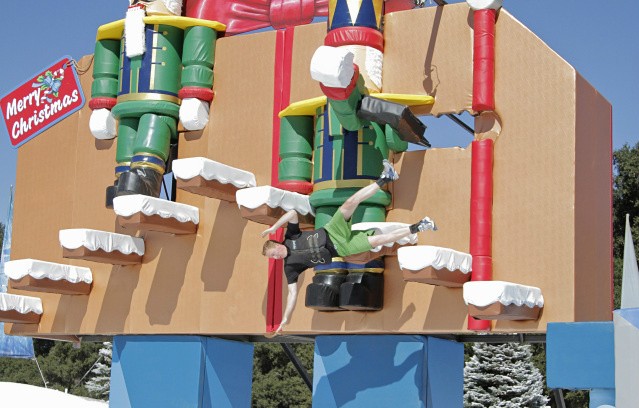 Working on the show is a labor of love (albeit crazy love) for series co-creator and executive producer Matt Kunitz, who's also responsible for other reality series like Fear Factor (making its return to NBC next week) and ABC's 101 Ways To Leave A Game Show.
Sitting in the production offices in frosty Santa Clarita (it was a brisk forty degrees on this particular evening), Kunitz clued us in to what it takes to make Wipeout, starting with the show's huge set. "It's like Disneyland!" he quipped.
"The course is completely different. Every year, the course evolves and gets bigger. The falls are much higher than we've ever had. The wipeouts will be much bigger," he said, before admitting that such a thing comes with plenty of concerns. "We have to one-up ourselves constantly. It's getting bigger and bigger, but you have to keep it on budget. It has to be safe, but you want the big wipeouts, so there's a fine line," he added before rattling off four different kinds of foam. Who knew padding an obstacle course involved options?
As you can imagine, the show is no easy feat to pull together. Asked if there's ever something that they couldn't get to work, Kunitz shook his head. There's no room for error.
"The thing about this show is it takes so long to build a particular obstacle, so if we build it, we're going to use it. Sometimes we're building literally up until 6 PM the night before. If it doesn't work at 6 PM the night before, we change the rules of the stunt to make it work. We don't have the option to just say 'forget it, we're going to throw away this stunt.'"
Once an obstacle is put together, it's turned over to the show's course testers, a batch of 18 to 25-year-olds nicknamed the "Black and Blues" (you can guess why). Kunitz has nothing but respect for these crazy kids who sacrifice their bodies for the show.
"They've become quite amazing, so you can't get a good sense of 'is it doable?' You get a sense of 'is it safe?' They literally slam themselves into every obstacle, every object. They take a fall at every angle," he explains.
The Black and Blues are just the start of the testing process. After the testers get through with an obstacle, the show brings in "friends and family of the crew or [people from] word-of-mouth...real people who've never seen the course before" to give it a try, and then contestants are brought on.
Kunitz himself has never braved the course, and don't expect him to. "I have never tested a single stunt out here. I don't want to be ridiculed by the entire crew [and] end up in some gag reel at the end of the season," he said with a laugh. "It's not designed for success, it's designed for failure."