Behind-The-Scenes Look At 'Law & Order' With The Stars Of The 20-Year-Old Series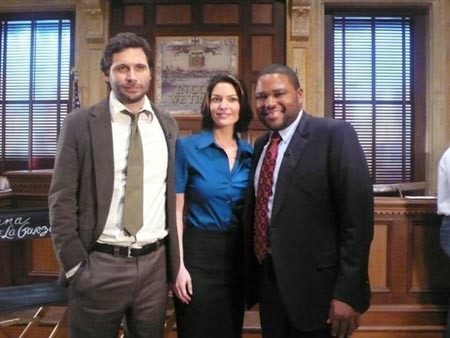 "
Law & Order
" is about to break a record as the longest-running primetime drama in American television history. The current record holder is "
Gunsmoke
," which ran for 20 seasons as well, and since "Law & Order" is about to hit that benchmark it is only a matter of time before they break it altogether. It is most certainly the longest lasting show currently on TV, with one of the most consistent fan bases that follows it and the two spin-off series. Honestly, over the years it seems like the show can do not wrong, taking on serious and controversial cases on a regular basis and commenting regularly on the justice system.
A few days ago a group of bloggers were invited onto the set of "Law & Order" in New York City, and I was lucky enough to represent Starpulse. Three of the current stars on the popular drama were present to answer questions, tell inside stories, and give us a personal tour of the set. The three stars were
Alana De La Garza
who plays Junior Prosecutor Connie Rubirosa,
Jeremy Sisto
who plays Senior Detective Cyrus Lupo, and
Anthony Anderson
who plays Junior Detective Kevin Bernard.
The bloggers were settled into the jury panel on the set of the "Law & Order" courthouse, and when the three actors came in the energy instantly shot up in the room. They were instantly at ease with one another and trading jokes and barbs, opening up the Q & A session with a warm 'bring it on' kind of vibe. For the next 45 minutes the actors answered questions about the draw of the show and why it is still on the air, how often the show is ripped right out of the headlines, and what it was like for each of them to adjust to the style. De La Garza discussed how excited she was to be a female role model rather than the 'damsel in distress' she played before, and Anderson was excited to not be type casted as the comic relief. He spent most of the day making everyone in the room laugh, even doing a little Rerun dance and talking about how people randomly scream "KANGAROO JACK" at him as they drive by.
Welcome to World of Law & Order
Sisto is an actor that many might know from "
Six Feet Under
," but he confessed the role he tried to flee from was that of Elton in "
Clueless
." After a teasing prompt from Anderson, he did a little hand wave and said 'rolling with the homies' from that popular teenage comedy. He also confesses to be a crazy fan of "
Mad Men
," and that he finds Anderson's interest in watching golf very boring. De La Garza seemed the perfect person to be in between the two as they teased one another; she gave back to her male co-stars as good as she got! They talked about the episode from last Friday guest starring
Rob Corddry
, and that this upcoming week on "Law & Order" there will be two back-to-back episodes with plenty of guest stars.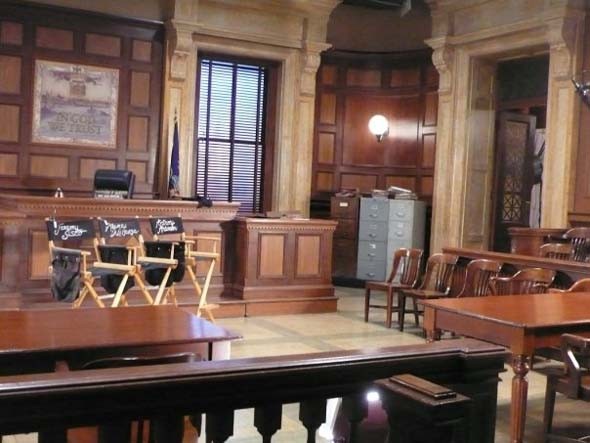 Image © Chelsea Doyle
Then the stars were kind enough to take us on a tour of the set, although they were only allowed to go a few places since the other sets were being filmed right then. De La Garza held back and walked with us bloggers, laughing at the antics of her co-stars as they posed together in the main hallway and showed off one of the police rooms. The actors were confident that "Law & Order" has a long career ahead of it, whether or not it includes them within it. Currently there is some talk about how
Jay Leno
's taken the prime time hour, and that "Law & Order" really should not be on so early in the night. The actors did seem to agree with this, but they were cautious of speaking poorly of the late night star.
Fans ask the questions!
The show is doing well in the otherwise death-slot of Friday evenings, and while it probably would be more suited for a later hour, it is seeing no concerning dip in the ratings. For fans of "Law & Order," it is likely the show will continue to be on for another twenty years. As the actors pointed out, as long as there is crime to write about, they should have an endless supply of stories!
Check out "Law & Order" this Friday at 8 PM EST and celebrate their 20th season on air.
Story & Photos by
Chelsea Doyle
Starpulse contributing writer
Follow Chelsea on twitter at http://twitter.com/mustbethursday.