'Beethoven's Big Break' & 'Beethoven's Dog-Gone Best Movie Pack' Arrive On DVD Dec. 26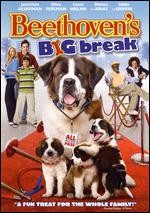 Bring together one mega-popular pooch, an all-star cast, some of today's hottest music and a barrel of bouncing baby St. Bernards, and it all adds up to
Beethoven's Big Break
!
Although animal handler Eddie (
Jonathan Silverman
) works with lots of creatures, he has a strict NO PETS ALLOWED policy and won't let his son Billy keep adorable stray dog Beethoven and his family of puppies. But when dog-nappers steal the canine star of the movie Eddie's working on, the studio big shots must quickly find a replacement and unexpectedly cast the lumbering canine as their next big star. Through his rambunctious antics and larger-than-life personality, Beethoven not only crashes into Hollywood but into Eddie's heart as well.
You gotta feel bad for this bad guy!


The all-new adventure comes exclusively to DVD on December 26, 2008 from Universal Studios Home Entertainment. This full-length comedy stars
Moises Arias
(Rico on "
Hannah Montana
"), Jonathan Silverman ("The Single Guy"), Daytime Emmy ® winner
Jennifer Finnigan
("
The Bold and the Beautiful
"),
Rhea Perlman
("
Cheers
"),
Joey Fatone
("
Dancing With The Stars
,"
N Sync
),
Stephen Tobolowsky
("
Heroes
"), Oscar Nunez ("
The Office
"),
Eddie Griffin
(
Undercover Brother
) and Cesar Millan ("The Dog Whisperer") in his feature film debut-and introduces Pete The Lizard! A fresh and funny re-imagination of the hugely popular franchise,
Beethoven's Big Break
is jam-packed with more action and laughs than ever before.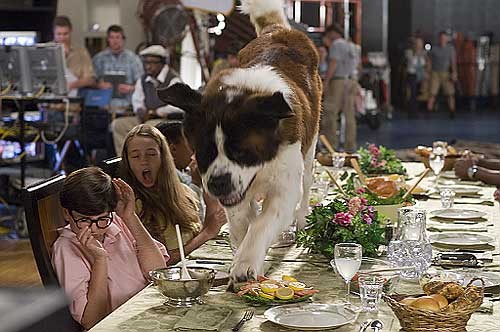 "With movies, bestselling books and even reality television showcasing the public's fascination with all things dog-related, we believe that there's no better time than now to re-invent the Beethoven franchise." said Glenn Ross, General Manager and Executive Vice President of Universal Studios Family Productions. "
Beethoven
has delighted families around the world and we saw this as the perfect opportunity to give this beloved character a makeover for his introduction to a new generation."
Beethoven Movie Commercial: 1992


Beethoven's Big Break
is Universal Studios Home Entertainment Family Productions' newest DVD OriginalTM. Since its introduction in 2005, the DVD Original™ line has made the studio the industry leader in the growing made-for-DVD market. Universal's strategy combines top-notch casts with high-caliber production values to create new installments of its popular franchises. By launching these films with aggressive marketing campaigns, Universal has released some of the most successful made-for-DVD movies of all-time, including an unbroken string of hits extending the blockbuster franchises
Bring It On
,
American Pie
and
The Scorpion King
.
Barkin' Hot Bonus Features
The
Beethoven's Big Break
DVD contains a kennel full of exciting, exclusive bonus features, including:
-Deleted Scenes
-Gag Reel: Over 10 minutes of fun moments from the set.
-Moises Steals The Show: Filled with direct-to-camera hijinks, this piece features Moises Arias acting, joking, and playing.
-How Did They Do That?!: Animal trainers Mark Eschevarria and Dave Sousa tell us how they trained three dogs for the role of Beethoven while Dog Whisperer Cesar Millan explains the keys to working with animals.
-Feature Commentary With Director Mike Elliott And Stars Jonathan Silverman And Moises Arias!
They'll call him... Beethoven


Head to the next page for more great Beethoven videos!