Becky Robertson Talks About TLC's 'Welcome to Myrtle Manor'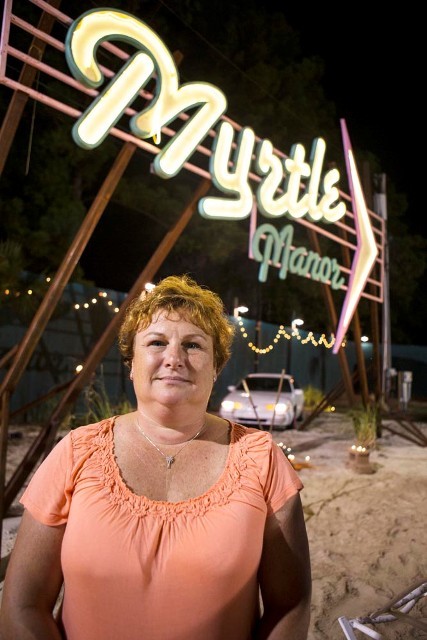 TLC has been attracting some attention with Welcome to Myrtle Manor, its new reality show centering around the residents of a mobile home park located in Myrtle Beach, South Carolina. Some people love the show, others can't stand it - and some people even think it's scripted. To find out what's really going on at Myrtle Manor, BFTV spoke with Becky Robertson, one of the stars of the show and the current landlord of the property.
"I have said for years we should have our own reality show with all the craziness that happens here," she told us. "The problems and excuses that people come up with I wanted to share with the world for a good laugh - so when I got the chance I took it."
"The experience was amazing," she continued. "I never really had any expectations [because] I didn't know what to expect.  All of this was new to me.  I never realized how much time and energy it took to make a one-hour episode. We have had the opportunity to meet great people. I have made some lifelong friends.  I also enjoy meeting the fans of the show.  People from 36 states, six foreign countries and three provinces of Canada have visited us. If it weren't for them, we wouldn't have a show."
Becky also addressed the stereotype that comes with living in a mobile home park, and if she thought having Myrtle Manor on TV every Sunday is helping to correct it. "There is a certain stereotype of people that live [in] a trailer park.  I do not believe we should be stereotyped," she said. "We are a community that lives together and takes care of each other.  No one is better than the other.  We live what we believe.
"I think the difference between a trailer park and an upscale neighborhood is we are not ashamed of what we do," she continued. "We live in our front yard and don't hide behind our privacy fence in the back yard.  I hope the show helps change [the stereotype], but people are going to think what they want to."
Is the show scripted or fictionalized, like many reality shows have turned out to be? "Welcome to Myrtle Manor is real," she assured us. "As with most reality shows, producers might set the stage, but what unfolds as a result is authentic.  The show captures individuals in situations that many people find relatable - the laughter, tears and sometimes anger that are just a part of life.  All of that is real."
"I want people to know this is entertainment," added Becky, who can also be found on Twitter (@MyrtleManorBeck), along with several of her fellow Myrtle Manor residents. "Don't take life so seriously; enjoy each and every day that God gives us.  Take the time to laugh.  Be serious when you need to be."
Welcome to Myrtle Manor airs Sunday nights at 10 PM ET/PT on TLC. For more information on the show, you can also visit the official website.
(c)2013 Brittany Frederick. Appears at Starpulse with permission. All rights reserved. No reproduction permitted. Visit my official website and follow me on Twitter at @tvbrittanyf.
Correction: Some readers have expressed concern over the original formatting of "God" in the above article, which censored the "o". This interview was conducted over email, and the quote was taken directly from the email, including the spelling of "God". We've since reached out to the PR representatives and they have informed us that the omission was a typo. It has now been corrected. No offense was intended.