Beauty, Brains, And Big Plans: 'Real Housewives Of Orange County' Gretchen Rossi Talks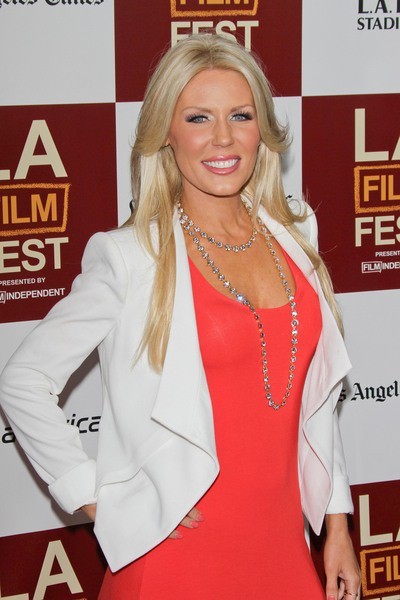 Starpulse's Jeza Belle sat down with "Real Housewives of Orange County" star Gretchen Rossi, for a one on one interview. Gretchen shared the success she's having with her businesses as well as her thoughts on babies and marriage with boyfriend Slade Smiley.
Tell us what's new since Season 7 of RHOOC wrapped?
Lots! There have been many ups and downs. My businesses continue to grow and expand. In my personal life however, I've had some tough circumstances going on lately. Slade's youngest son Grayson went in for major brain surgery in New York and had some big complications. He was in ICU for three months and only just now is being moved to a different facility. There has been lots of bi-coastal traveling, worry and emotion on both Slade and my parts for his son.  On top of that, I've had some issues with a court case that has been going on for the last four years, but I won and am thankful to have that wrapped up. Lots of stress!
Our heartfelt best wishes for Slade's son. I read recently that Slade and you were trying to get pregnant and have a child of your own as well…any news on that front?
Slade and I have been talking a lot about babies and have even spoken to some doctors. He had gotten a radio show, 'Radio Slade', and had been focused on that while I've been working hard with my companies. But, babies are definitely a point of discussion for both of us as eventually we would love to have a family.
Would you prefer a boy or a girl?
It's a cliché, but it is the truth that at this point I just want a healthy baby. I am thirty five and of course the older you get there can be complications. However, that said, Slade has two boys and as fun as it would be to have a girl in the family, I've always had the feeling that I would have boys. It could be fun to have a girl to change things up though.
You are the Barbie of the OC in so many ways with your girly-girl style. In fact, your collection even offers bling for the bottom of a gal's pumps! How odd would it be for you then to have a boy?
Thank you…I actually take pride in being girly-girly! I can't lie over the years I've been out with my friends buying things for their little girls and have bought a few things I could not resist along the way. You know I love the bling and the girly thing so I have a few pieces I've gotten over the years just in case I do have a girl one day. I won't be disappointed with either and actually would love to eventually have one of each!
Marriage came up quite a bit in the last season, any chance you and Slade will get married in the future?
Definitely it's a possibility for the future.  I don't feel like we need the license to show that we are in a loving committed relationship. However, the more the idea of kids comes into the conversation, the more I've really thought about the idea of marriage as a possibility. We'll just have to play it by ear.
Speaking of marriage, what are your thoughts on gay marriage, as California's prop 8 has propelled this issue to the Supreme Court?
I'm 100% behind gay marriage. I have so many wonderful friends in the community. Some have been with their partners for over twenty years. It would be great if they could get married and show the world their love and commitment in the same way that straight people can. In fact, Slade and I actually have discussed on more than one occasion holding off on getting married until the day when our friends have the legal right to get married too. I believe it's getting closer. Everyone should have that right to decide if they want to marry.
Your are number 30 on the 'Top 100 Entrepreneurs to Follow" list on Twitter, with this in mind, tell us about your many businesses starting with your Gretchen Christine Collection.
I'm so proud that I keep getting recognized on that list! Also, I have been on the cover of some great magazines as well for being a young woman entrepreneur. This is a great source of pride for me because I went after my dreams and started companies I've always wanted to. I'm a self-sufficient woman in that regard and it feels great.  The Gretchen Christine Collection launched the Pink collection in October and sold out. We just got a new shipment in and already some items are sold out again. A part of the proceeds go to the Breast Cancer Charities for America. This in itself is really important to me, as when I started my businesses I wanted to make sure that they not only offered customers quality product, but that they  also gave back responsibly to the community.
As a drag queen, I of course love makeup, tell us about your line of Gretchen Christine Cosmetics.
What's great about the cosmetics is that the line is popular and consistent with amazingly loyal customers.  We make great products in great colors for the everyday woman. It's the way to bring out your natural beauty, which is the concept behind the line. In fact, right now we are looking at distributing internationally to retail stores, which is exciting!
Sounds like you are coming into your own with all of this work of yours.
I've been very busy! I love it when people on the show say, "you don't work" or "what do you do"? It's like, really?! Hang out with me for a little bit and you will see. For example, today I was working on the Pink collection, helping to fill orders and dealing with customer service. Also, I'm excited to say, that this morning we were in a meeting with Luxe Swimwear, the line by Lisa Vogel, as we will be expanding our collection to include Gretchen Christine designs with them. Over the years I've had many requests to create swimwear and this opportunity will allow our product to be available both at Lisa Vogel's SwimSpot retail stores and online. On top of that, I'm also excited to say that I've been asked by Rolls Royce to help design a limited edition Gretchen Christine Rolls Royce!
You've gone through some hard times that the public and your fans have shared in with you, what keeps you going?
First and foremost it's my faith and relationship with God. I was raised in a Christian home and that has kept me grounded in life. On top of that, I have family and friends who support me and stand by me no matter what is said or spun, both on and off camera. Finally, in the last four years Slade has been my rock. He's everything I could have ever imagined in a guy plus one hundred times more. He gets such a bad rap on the show which bums me out because he really is a great guy. I'm lucky to have someone that loves and supports me like him and encourages me to go after all of my dreams.
As a RHOOC, tell our readers what makes a housewife distinctly Orange County?
We're a little laid back, as this is a beach town but it's mixed with the glamorous affluent lifestyle. We all have our nice homes, cars, accessories and bling. The perfect OC babe is in shape, tanned, blonde flowing hair, made up and put together!
Finally, how are your friendships with Tamra Barney and Alexis Bellino, since there were some big shake ups on the last season of RHOOC?
All I can say is that you will have to tune into Season 8 of 'Real Housewives of Orange County' to see!
For more information on Gretchen and her businesses, see the Gretchen Christine Rossi Official Website.