'Beauty and the Beast' Interview with Kristen Kreuk and Jay Ryan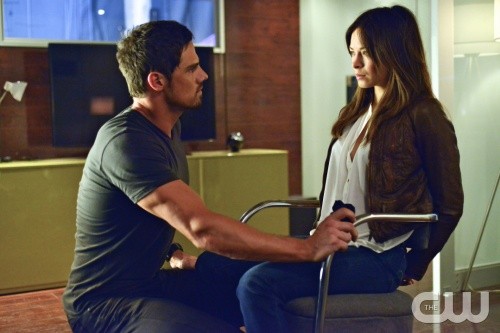 During New York Comic Con, I interviewed stars Kristin Kreuk and Jay Ryan of 'Beauty and the Beast' and executive producers/co-creators Jennifer Levin and Sherri Cooper.
If you never watched Ron Koslow's original 1980s series on CBS (which I did) and you didn't catch recent episodes, CW's 'Beauty and the Beast' surrounds fiercely loyal detective Catherine Chandler (Kreuk) who falls in love with 'beastly' former soldier Vincent Keller (Ryan). Having willingly undergone a super soldier experiment (led by Catherine's mother and her employer, Muirfield), Vincent escapes when it goes south. Years later, he re-connects with Catherine while still running from Muirfield. Season one surrounds his search for a cure while avoiding re-capture. Although the show started off terribly with a pilot forcing Kristin and her female co-lead to talk in horrible New Yawk accents with ridiculously skinny skinny jeans and prom dresses, the producers/writers, immediately rectified that mistake in episode two. I'm glad I stuck with the show all throughout. Each episode we see the chemistry between the two leads increase while portraying a stronger Catherine. Plus, I love that Catherine dresses appropriately for a woman her age and her position. My biggest complaint as a woman surrounds shows that feature unrealistic wardrobes for the age and position of their characters. Real life business women don't wear bodycon dresses. Real life cops don't rock heels. The wardrobe/production staff take that under consideration.  Everytime I see Catherine wearing flats as opposed to heels when chasing perps I cheer. Half the time she rocks clothes I swear currently hang in my closet like my favorite Gap cardigan.
Executive Producers/Co-Creators Sherri Cooper and Jennifer Levin
I'm surprised Sherri and Jennifer didn't re-watch the original 'Beauty and the Beast' and only one of them saw a couple episodes as a child. They stated Ron gave them carte blanche and didn't require they use any part of the original storyline. However, it's odd because their re-boot generates the same feeling I experienced when watching the original. Both series surround Catherine and Vincent's eternal love. Both surrounded Catherine as a justice seeking member of law enforcement. Both featured Vincent as a gentle, justice-focused, sewer-dwelling soul who took to rooftops when aboveground. I loved the CW reboot because it reminded me of the original's intensity and passion while adapting it to modern day. I find it impressive that they captured that ethereal feel with a subterranean wonderland (in season one's final episodes) without using the original as a guide.
This season they're tightening the cast and the plotline. I agree with all their changes. In season one, we needed Catherine's sister, Heather, to humanize Catherine and give her real world contact outside Vincent. We needed the hard-nosed yet friendly boss Joe to drive the weekly non-beastly investigations. We needed Evan to show that someone as pretty as Kreuk wouldn't remain single without suitors. However, sending Heather to Miami, allowing Evan to sacrifice himself (or become a future super-soldier), and replacing Joe with Sendhil Ramamurthy's slightly untrustworthy ex-beast works. Also, in the season two premiere we learn that the U.S. Government captured Vincent, re-booted his memory and returned him to New York to destroy Muirfield and any of its 'beast' operatives. This gives the second season a tighter focus, removes Muirfield as the main baddie and cools the brakes on Vincent and Catherine's relationship.
The producers admitted they hadn't planned on allowing Vincent and Catherine to kiss until the season one finale, but realized that went too far. However, once they started the relationship wagon rolling, they couldn't stop. Giving Vincent amnesia this season helps slow it down. While I loved talking to these awesome women, it's sad when you discover you're older than the producers sitting opposite you yet they've accomplished far more. They are two adorable women who handled everything with aplomb. Check out the video interview below or here http://youtu.be/q0h3a13PMpg.
Stars Kristin Kreuk and Jay Ryan
Kristin Kreuk surprised me. She's incredibly direct and forthright. I hate comparing actors to their characters, but in reality Kreuk felt closer to the steely-eyed Cat than to the helpless Lana Lang damsel in 'Smallville.' Most actors/actresses go out of their way to charm you in the press rooms and I appreciated Kristin's matter-of-fact personality. I asked if we'd see Cat cease to cover for Vincent. In season two's opening episodes, we see Cat consistently explaining away Vincent's bad deeds. Even when she claims she's over him, she isn't. But, Kristin promised that Cat will increasingly realize the Vincent before her isn't her Vincent and accept it.  
I absolutely forgot that Jay's from New Zealand, until he spoke. The best American accents typically occur when an actor doesn't flatten out his vocal intonations. Jay's speech patterns are all still there in his natural voice. So, I'm even more impressed that he maintains his natural cadence while layering an American accent and Bronx inflections on top of that. In season two, Vincent loses his scar and gains enhanced awareness/control. With the revamped 'Beast,' he suggested streamlining the 'beastly' make-up process considering they originally spent four hours each time, yet typically filmed his beastly self in the shadows. For the interview see below or go to http://youtu.be/VkF1OdvEj34.
I was so happy that 'Beauty and the Beast' won People's Choice Award for favorite new TV drama. If you haven't already watched it, check out videos on Hulu, the CW, or Netflix. Watch it live on Mondays 9/8 Central on the CW. For social media, check out their Facebook and Twitter feeds.