Beastie Boys' Star-Studded 'Fight For Your Right (Revisited)' Named 2011's Top Music Video (Watch It!)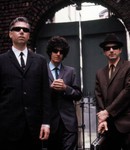 The Beastie Boys' "Fight For Your Right (Revisited)" video, featuring Seth Rogen, Elijah Wood and Danny McBride as the aging rap trio, has topped a new poll to find the music promo of the year.

The actors battle their future selves, played by Will Ferrell, Jack Black and John C. Reilly, in the hilarious short film, released to promote the rap group's acclaimed 2011 album "Hot Sauce Committee Part Two."

The video beat Ke$ha's "Blow" and Tyler, the Creator's "She" in Spinner.com's end-of-year round-up.

Lana Del Rey's "Video Games and Money" and "Run" by UNKLE featuring Nick Cave round out the top five.
Warning: Contains Profanity