Beastie Boys 'Ad-Rock' And 'Mike D' Thank Fans In Support Over Adam Yauch's Death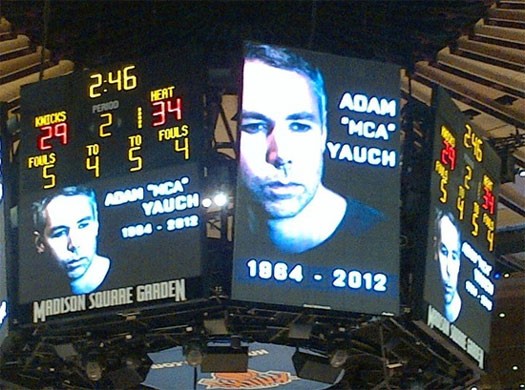 Adam 'Ad-Rock' Horovitz And Mike 'Mike D' Diamond have both reached out to their fans following the loss of their friend and bandmate Adam 'MCA' Yauch,  who at the age of 47 lost his three year battle with cancer on Friday.
In a post on the Beastie Boys official Tumblr blog Horovitz wrote, " as you can imagine, sh!t is just fkd up right now. but i wanna say thank you to all our friends and family (which are kinda one in the same) for all the love and support. i'm glad to know that all the love that Yauch has put out into the world is coming right back at him. thank you." The post is accompanied by a photo of his hand with letters the letter "PWR2MCAI❤U" drawn in marker.
Fellow bandmate Mike 'Mike D' Diamond followed up earlier this morning, posting to the bands Facebook page. Diamond posted, "I know, we should have tweeted and instagrammed every sad, happy and inspired thought, smile or tear by now. But honestly the last few days have just been a blur of deep emotions for our closest friend, band mate and really brother. I miss Adam so much. He really served as a great example for myself and so many of what determination, faith, focus, and humility coupled with a sense of humor can accomplish. The world is in need of many more like him. We love you Adam. BTW this photo sent to me by a friend, (thanks Saslow) is just one awesome example of how NYC is such a unique place that amidst it's huge size and frenetic pace it really opens up it's heart in so many ways and on on so many levels in times like these. And though it makes me cry sometimes, it has been really amazing and moving to see.
Mike." 
The photo Diamond is referring to (above) is a snap shot of the Madison Square Garden scoreboard at yesterday's Knick/Heat playoff game, displaying a picture of Yauch in memorial.