Bear McCreary: Television's Best Composer Talks the Music of the Small Screen
Bear McCreary may be the best composer working in television. It's hard to argue with his resume, which reads like a genre fan's dream: Battlestar Galactica, The Walking Dead, Eureka, Terminator: The Sarah Connor Chronicles, and the first season of Human Target, just to name a few.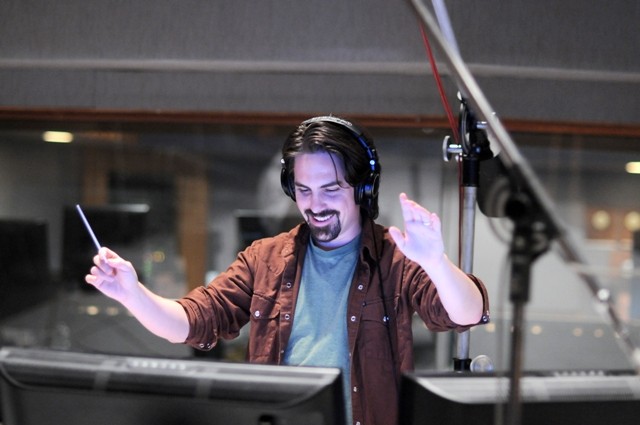 It's not just that he's worked on great shows, either - McCreary's work is amazing standing on its own. It's music that can be enjoyed with or without the images. There aren't many TV composers who have been able to draw crowds for live concerts of their score pieces, but that's what McCreary did during the run of Battlestar. He added a great new chapter to an iconic score with Terminator and then created a Human Target theme so unique that it earned him an Emmy nomination. When it comes to small-screen composing, there's really nothing that he can't do.
Celebrating the recent release of A Very Eureka Christmas, Bear took time out of his busy schedule to explain what it's like to compose for holiday episodes and how he creates such memorable music.
Putting together music for a holiday installment, as he's done for several Eureka episodes, takes something just a little different. "It's a very different aesthetic," he explained, "and ironically it brings all this baggage from great Christmas movies and holiday specials. It rweally kind of raises the stakes. It can be a little intimidating, but especially with the Eureka specials, the episodes themselves were so charming and fun, it was great."
His favorite track on the new CD? That would be "Anime Christmas Battle", which is exactly what it sounds like. "It's full of all these inside jokes from anime and anime scoring," he said. "The episode [Season 4's "Do You See What I See"] was almost fully animated, but they did it in these different styles. [With] the anime section I really got to go crazy. Especially for people that liked Human Target or The Cape, it's like that on steroids."
For composers like Bear, a TV score is a lot more than just something you hear in the background while watching your favorite show. It's just as complex, beautiful and grand as mainstream music - and it takes a fair amount of work to put together beyond just picking out instruments or deciding on a theme. "I really need to look at the characters and the character arcs and the big picture of the story. It's a tricky process because in a way that's almost removed from the show or the movie itself," explained Bear, "and then after that I look at the actual thing I'm scoring
"It's trying to get inside the characters' perspective and very often channeling my own experiences. I'm very much the method actor of composers. Sometimes that's really fun and other times it can be a really terrible, agonizing experience, especially working on a show like The Walking Dead. I have to get inside the agony of those characters."