B.B. King To Release 'One Kind Favor' Aug. 26

The King of the Blues is set to release a new album featuring covers of old blues songs from
B.B. King
's early influences. With production by
T. Bone Burnett
(
Robert Plant & Alison Krauss
,
Roy Orbison
,
Elvis Costello
) the set revisits the music that influenced B.B. in the 1950s, the beginning of King's extraordinary professional journey that, literally, changed the texture of modern blues playing.
One Kind Favor
will be released on Geffen Records August 26th.
Recorded at The Village Recorder in Los Angeles, CA One Kind Favor is meant to sound like an album recorded in the 50s. To get this sound Burnett and King replicated the kind of blues band King had back in the day bringing in some of the greats –
Dr. John
on piano, Nathan East on stand up acoustic bass and Jim Keltner on drums, to name a few. Studio conditions of the time were reproduced. The result is a vintage sounding album filled with the songs that influenced King in his early days as an artist.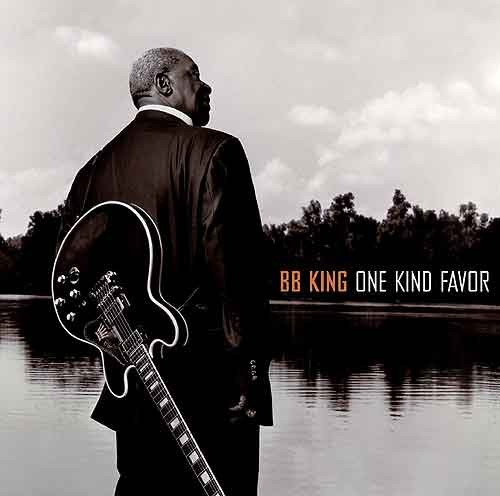 The full track listing for One Kind Favor (original artist in parenthesis):
"See That My Grave Is Kept Clean" (
Lemon Jefferson
)
"I Get So Weary" (
T-Bone Walker
)
"Get These Blues Off Me" (Lee Vida Walker)
"How Many More Years" (Chester Burnett)
"Waiting For Your Call" (Oscar Lollie)
"My Love Is Down" (
Lonnie Johnson
)
"The World Is Gone Wrong" (
Walter Vinson
, also known as Walter Jacobs, and Lonnie Chatmon, core members of the
Mississippi Sheiks
)
"Blues Before Sunrise" (
John Lee Hooker
)
"Midnight Blues" (John Willie "Shifty" Henry)
"Backwater Blues" (
Big Bill Broonzy
)
"Sitting On Top Of The World" (Walter Vinson and Lonnie Chatmon)
"Tomorrow Night" (Lonnie Johnson)
In other B.B. news, on September 13th King– one of the few musicians in the world to be so honored – will preside at the opening of the B.B. King Museum and Delta Interpretive Center in his hometown of Indianola, MS. Also in September B.B. King will begin hosting his own weekly radio show on XM Radio on their newly relaunched blues channel "BB Kings Bluesville" (XM 74).
For more than 60 years, Riley B. King - better known as B.B. King - has defined the blues for a worldwide audience. Since he started recording in the 1940s, he has released over 50 albums, many of them classics, won 14 Grammy® Awards, been inducted into the Blues Foundation Hall of Fame and the Rock & Roll Hall of Fame and received the Presidential Medal of Freedom, the National Medal of the Arts, the Kennedy Center Honors, the Grammy® Lifetime Achievement Award and the NARM (National Association of Recording Merchandisers) Chairman's Award, among many other awards. In a special ceremony at the Library of Congress, Librarian of Congress, James H. Billington presented B.B. with a "Living Legend" medal in honor of his achievements as a musician and ambassador for the blues. After 10,000 concerts, B.B. King continues to bring his music to audiences around the globe spending the better part of each year on the road with his beloved guitar, "Lucille."