'Baywatch' Star Jeremy Jackson Blames Steroids For Wrecking His Hollywood Dreams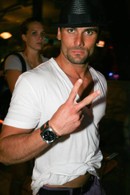 Former child star Jeremy Jackson has opened up about the steroid abuse that forced him into rehab, revealing he was taking drugs farmers give to cattle pre-slaughter just to build up his body.

The actor, who played David Hasselhoff's son on Baywatch, has battled substance abuse issues in the past but he never thought he would become addicted to performance-enhancement drugs.

Rattling off a shopping list of dangerous drugs he took to help him become a beefcake in the gym, Jackson tells Access Hollywood Live he started working out to get into shape for TV and movie roles, but he became so obsessed with his gym routines and steroid use, he stopped going to auditions.

He says, "I just got distracted. I got pulled into it and it became all about diet and body image and I stopped doing the things that were important to me, and that's when it became very unhealthy for me... I was unhappy."

Jackson is among the stars taking part in the upcoming season of reality TV show Celebrity Rehab.

He reveals he recently turned down the chance to become a mixed martial arts fighter over fears the training would prove too much for him.

But he's interested in a "physique competition" that tests for illegal drugs and steroids, so he can show fans and friends he's "clean."