Battle Rounds Continue on "The Voice"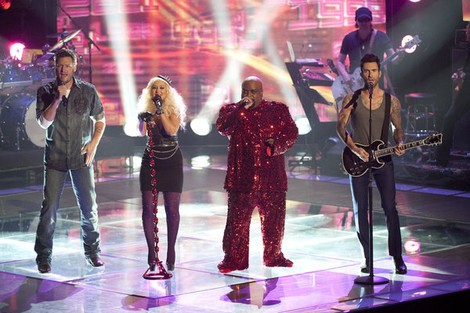 While there were five more battles on round two of "The Voice"; only three of the performances were featured as the coaches continued to pare their teams down to eight singers plus possibly two steals.
Cee Lo chose country boy Cody Belew and Hip-Hop dancer Domo together saying he wanted to see the "whole package".  The pair sang "Telephone" by Lady Gaga in a full on performance.  In the end Cody impressed Cee Lo and won out.  None of the other coaches chose to steal Domo.
Christina chose "You Give Me Something" by James Morrison for Aquile and 15 year old Natalie Herndandez.  Mentor Billie Joe Armstrong said that Aquile sounded better than the original during rehearsals.  Saying that she had a soft spot for both of the singers, Christina chose to keep Aquile on her team.  No one stole Natalie.
In two battles that were not featured on the air; Christina chose Celica Westbrook and Lisa Scinta to battle in song with Celica winning the battle.  And Blake chose Charlie Rey and Rudy Parris as a battle pair with proud grandpa Rudy winning the battle.
The final performance of the night was from team Adam with Melanie Martinez and Caitlin Michele singing the Elle Goulding song "Lights".  In their first meeting mentor Mary J Blige said that Melanie shocked her.  Adam's fellow coaches all said that both girls deserved to stay.  It was clear that someone was going for a steal once Adam had made his decision.  Saying that he was going with the singer that moved him the most, Adam chose to keep Melanie. 
Once Carson Daly announced that Caitlin was available to steal Blake and Cee Lo both pushed their buttons.  Caitlin chose to join Cee Lo's team.
Next week the battle continue…