Battle of the Food Show All-Stars

Since the late great
Julia Child
first signed off "Bon Appetit!" it was apparent that a country that loves to eat might also be entertained by the art of cooking. Network television and cable outlets like the Food Network ran with the premise, creating programming increasingly diverse and interactive over the years. Take that old idea; add a pinch of "Survivor"-style competitiveness, a dash of the challenge and ingenuity of
Iron Chef
and a heaping helping of reality drama and voila! - A veritable cassoulet of tasty televised cooking competitions now exist for foodie and novice alike. Let's take a close inspection of the kitchens of five popular current food shows and see who can stand the heat vs. who should… Well, you know.
Ramsay's Kitchen Nightmares (BBC America):
Love at first bite! Let's face it - we'll take British Chef
Gordon Ramsay
in all his incarnations: Exaggerated tyrant, disgusted Restaurateur, as well as the incarnation we witness most in this engrossing restaurant improvement show - compassionate philanthropist. Ramsay cares about food and the bottom line, but he shows us he equally cares about the people he helps as he rides into British cities and towns to save restaurants on the brink of failure. Totally at ease on his home turf, Ramsay serves up tough love to deluded owners, dispassionate chefs and lazy staffs. Everything from the menu, décor and marketing are overhauled and no task is too small - or too grimy - for Ramsay to handle. Ramsay's frank (and sometimes profane) talk, expertise and genuine care are all pleasing to the palate. Also - and this won't sway all viewers - there is a moment in each episode when Ramsay strips down to change into his Chef whites. Now, we're cooking!
Final Taste Test: DEVOUR.
Kitchen Nightmares (FOX):
Fox should thank its lucky star Gordon Ramsay for making this American version of the hit BBC show a huge hit for the network (not to mention Ramsay's other bonafide success for Fox,
Hell's Kitchen
-below). Ramsay's been rewarded with a new deal to produce two additional installments and while the Americanized Kitchen Nightmares pales in comparison to the more earthy Brit hit, U.S. viewers will be rewarded to future eye-opening restaurant revamps, and more of Gordon's soft underbelly.
Final Taste Test: Sample at will.
Next Food Network Star (Food Network):
On-camera charisma counts for more than actual cooking chops on this series, which just concluded its fourth outing. The competitors, from diverse personal backgrounds are rarely gourmets; in fact, many have no formal culinary training. The aim is to find the next big personality for the Food Network; an individual who can combine a unique food point of view with that all elusive "it" factor. The stakes never truly rise above a simmer: Despite the prize of a limited number of produced episodes on the network, most challenges are softballs and the dishes are usually pretty simple and accessible (a plus for the home cook). For the most part, aside from Season 2's Guy Fieri, NFNS hasn't spawned any actual "stars" for the network (latest winner Aaron McCargo, with his soulful food and relatable style may be the exception) but the show is a brisk, entertaining look at what it takes to imagine, develop and execute a successful cooking show; not to mention cultivate a winning on-screen persona that keeps viewers salivating for more.
Final Taste Test: Sample at will.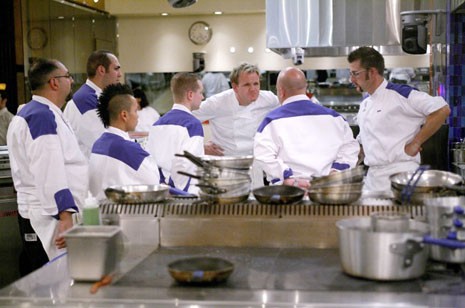 Hell's Kitchen:
The recipe for this summer sizzler includes only bite-sized talent and yet another side of Gordon Ramsay: Deliberately foul-mouthed, ill tempered and more fiery than the cook top. Each episode unfolds like a cooking boot camp with all cooks taking turns on the line and one unlucky slice-and-dicer being dressed down by Chef Ramsay and sent off to pack his or her knives at the hour's end. Viewers hoping to pick up culinary tips needn't bother to tune in to the unkempt, attitudinal, and chain-smoking "chef" wannabes on Hell's Kitchen: Though there is an occasional gem in the rough, most contestants display shocking ineptitude in the kitchen. Despite the impressive fourth-season prize - inconsistent culinary student Christina Machamer was appointed Senior Chef of Ramsay's newly opened eatery, Gordon Ramsay at the London West Hollywood - Hell's Kitchen boils down to lewd food. It's a bitter bite, only suited for occasions when the pantry's bare.
Final Taste Test: Spit discreetly into your napkin.

Top Chef:
Have to save the best bite for last… Bravo's hit cooking competition boasts inventive, up-and-coming culinary savants, cameos by world-renowned chefs, exciting challenges that inspire innovation (creating a gourmet dish using only snack foods from 7Eleven) and the astounding hotness that is
Padma Lakshmi
. Who can forget insufferable "molecular gastronomist" Marcel, female-fan favorite Sam (yum), massively unlikable Lisa or fourth season winner (and first female victor) Stephanie Izard? As if observing these fascinating creatures in their own habitats isn't enough, the show mixes in great dollops of high drama (as the notorious head-shaving incident of season 2 attests). Thanks to Top Chef, numerous "cast members" have seen restaurants and careers launched, the public can attempt those daunting recipes at home thanks to "Top Chef: The Cookbook" and couch cooks can wax poetic about an Amuse Bouche or Duck Confit convincingly.
So even if all the dishes don't exactly tickle the taste buds - er, Banana Scallop with Bacon Ice Cream and Cilantro stems, anyone? - viewers walk away with a broadened food knowledge and vocabulary. All the better to impress your friends with, my dear.
Final Taste Test: Devour!
Want to take a bite out of my arguments? Choose your own favorite food show here in comments!
Story by
Shannon Peace
Starpulse contributing writer