Battle Of The Campaign Songs: How Music Affects The Presidential Race

Music is a universal hobby. It's one that everyone can - and likely does - share. You don't have to know a whole lot about it to like it, and you don't have to be "good at it" to listen to what it has to say. Thus, music is a powerful way for politicians to speak to their voting public. And where words and speeches fail, a campaign song can intervene and convey the message.
John Mellencamp
must have been very aware of these facts when he asked GOP frontrunner
John McCain
to remove his anthem "Our Country" from his political campaign (after McCain usurped the song from campaign drop-out
John Edwards
), leaving McCain without an "official" campaign song.
Needless to say, this has been an interesting campaign year for the ever-important song choice.
Hillary Clinton
held a vote in May '07 for young people to help her choose her song. And, in an unmatched effort by some of young Hollywood's most influential celebrities,
Will.i.am
of the
Black Eyed Peas
organized various artists in support of
Barack Obama
to compose a song from Obama's popular "Yes We Can" speech, originally delivered after the New Hampshire primary. Produced by Jesse Dylan (yes, that
Dylan
), this song has seen millions of hits on YouTube and is being blasted at Obama rallies by his supportive public.
So, while Hillary has entrusted the young public to choose her song, Barack's supporters are taking it a step further, creating a song in homage to his speeches. And, what better way to convey the message to the musically minded and YouTube-influenced public than by making that message musical?
Of course, this format of speech-turned-song has been mimicked and even responded to by McCain supporters - but without an "official" song, McCain is out of the running for an in-depth look at what the song says about the candidate.
Despite Hillary's contest to help choose her song in May of 2007, she decided on a
Celine Dion
ballad called "You and I." Not exactly a chart-topper, this song is not as easily recognizable as the others that tend to grace her appearances and departures from the podium. Far from the fame of
Journey
's "Don't Stop Believing" and
Bachman-Turner Overdrive
's "Ain't Seen Nothing Yet," "You and I" as a title isn't exactly a ready-made slogan.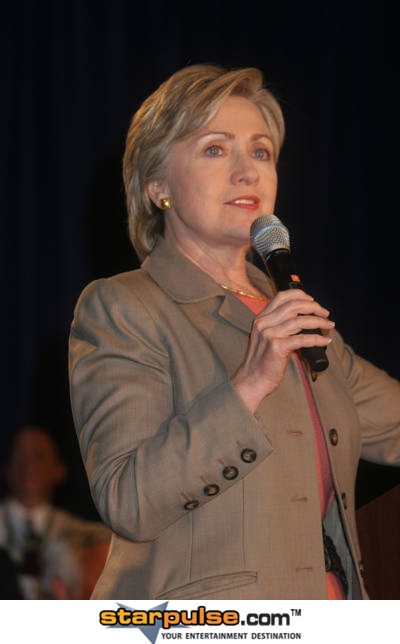 Hillary Clinton: Picked Celine Dion for her political tunes.
And while an outpouring of support for Obama has made its way to the airwaves, Obama has chosen
Ben Harper
's "Better Way" as his official campaign song.
For the musically minded, the campaign song choice represents more than just a beat to walk on stage to; the songs say all. So, in the battle for the Democratic ticket (since we can't rightly weigh in on McCain's nonexistent anthem), Hillary's "You and I" goes up against Barack's "Better Way."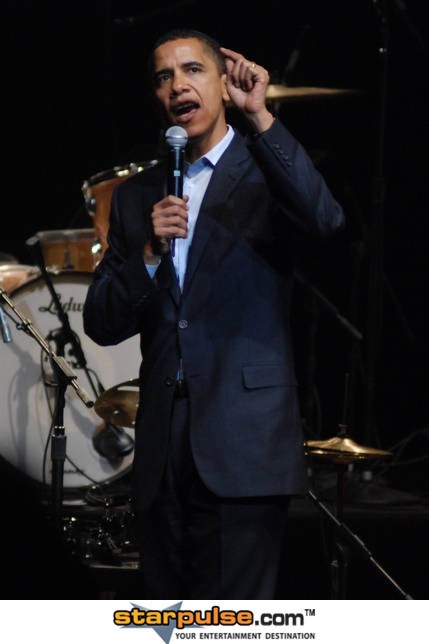 Barack Obama: Musically-backed by will.i.am and Ben Harper.
But, when it comes to the lofty ambitions Clinton is known for, the refrain says it all:
"You and I / Were meant to fly / Higher than the clouds / We'll sail across the sky / So come with me / And you will feel / That we're soaring / That we're floating up so high / Cause you and I were meant to fly"
But on the basis of song choice alone, it seems Barack is still tackling the issues, instead of making a resolution to fly. Using his song choice to speak to the public as earnestly as he does in public appearances, Obama's refrain echoes a call to action and facing reality:
"Fools will be fools / And wise will be wise / But I will look this world / Straight in the eyes / I believe in a better way."
Surely, if these choices are any indication of the intensions of candidates, Obama's "will is stone" and "reality is sharp." Clinton, on the other hand, "sails like a bird" and "was meant to fly."
So, if lyrics are language replacements, then Obama has a plan, and Clinton a dream.
By Theresa Kurzeja
Starpulse contributing writer