Battle B-Daman Ships For GBA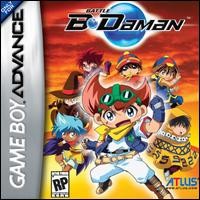 Atlus U.S.A., Inc., a leading publisher of interactive entertainment, today announced that
Battle B-Daman
has shipped to North American retailers and is in stores now. The game is based on the popular animated program of the same name, the second season of which debuts on American television later in 2006.
Lucky B-Dafans will also receive a sequel to Battle B-Daman later this year, when
Battle BDaman: Fire Spirits!
ships to retail on September 26th. Developed in Japan by Atlus Co., Ltd.,
Battle B-Daman
is rated E by the ESRB for Mild Fantasy Violence and Mild Language, and is exclusively available for the Game Boy Advance.
About Battle B-Daman
Yamato Delgado dreams of playing
B-Daman
, the ancient sport of the B-DaWorld—and his dream comes true when he's chosen to wield Cobalt Blade, the most powerful B-Daman ever. Yamato must use Cobalt Blade to compete in B-Daman tournaments and defeat the evil BDaplayers of the Shadow Alliance, who will stop at nothing to take over the B-DaWorld. Yamato will also meet characters both familiar and unknown on his journeys, including the warm-hearted Alan and the sinister-looking Goblin. Only a few have what it takes to become a B-Daplayer; will Yamato become the B-Dachampion?
Battle B-Daman is a marble-shooting game that debuted in Japan in 1993. The Battle B-Daman licensing program is supported by an animated television series produced by d-rights Inc., which controls all international rights. In the United States, the series was launched by the same team that handled
Beyblade
: Hasbro, ABC Family, and d-rights Inc.