Batman Occupies Wall Street (Video)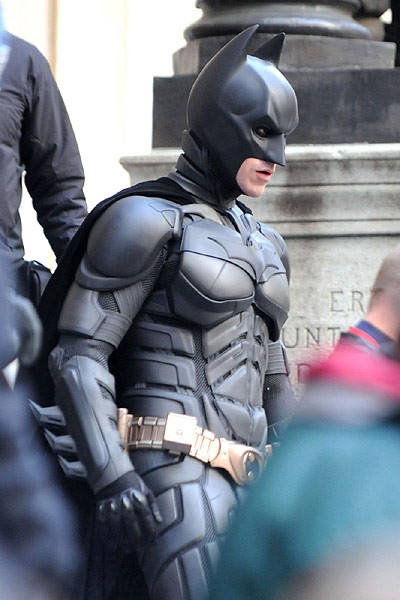 Chances are, if you're anything like us you can't wait until July 20, 2012 when The Dark Knight Rises comes to theaters, wrapping up Christopher Nolan's intense Batman trilogy.

The film's star, Christian Bale, was spotted donning a "new and improved" Batsuit while filming scenes on Wall Street in New York City on Monday. He was joined by co-stars Matthew Modine, who plays a corrupt cop named Nixon, and Tom Hardy who plays Bat super-villain Bane.

During the filming of one scene, several "Tumblers" - the desert-camouflaged version of the Batmobile - were spotted on the street during a key Gotham City battle (if you recall Batman asked Lucius Fox [Morgan Freeman] if the car came in black in Batman Begins).

And in addition to the near 1,000 extras and actor Joseph Gordon-Levitt, who plays one of Batman's allies, Catwoman was also spotted. Anne Hathaway, who plays the foxy feline, wasn't spotted, but her stunt double provided all her action on a cycle that looks quite similar to the Batpod from The Dark Knight.

We're not sure how Batman would feel about #OccupyWallStreet though. Consider that his alter ego, Bruce Wayne, would fall in the "1%."


Check out some of the action in the video below (and more pics!), shot from the balcony of a nearby apartment by YouTube user deannabreglia, who lives in the area and has several clips posted to her YouTube page. According to Deanna, the code name for the film while in production is "Magnus Rex."
In that case, we can't wait until "Magnus Rex" hits theaters on July 20th.
CHECK OUT MORE PICS FROM 'THE DARK KNIGHT RISES' FILMING ON WALL STREET...