Bathing Suit Babe: Ashley Greene Channels Priscilla Presley On 'Shangri-La Suite' Set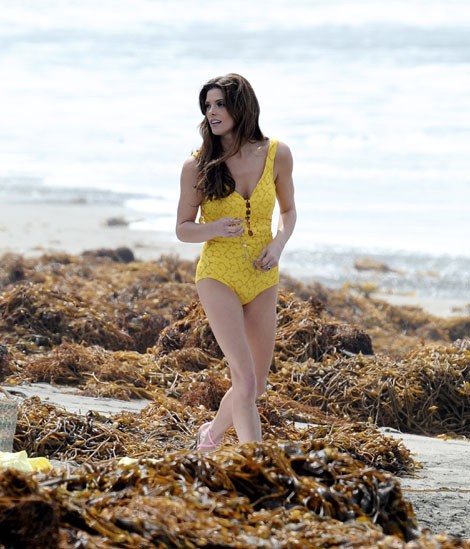 We spotted Ashley Greene on Redondo Beach, Calif., on Friday wearing a bright yellow vintage-inspired bathing suit while filming "The Shangri-La Suite." The actress plays Priscilla Presley.
She was joined on the beach by Emily Browning who wore a white bikini and swam in the ocean.
Ron Livingston plays Elvis Presley in the upcoming film, which centers on a couple named Karen and Jack who meet in a mental hospital and fall in love. They set out to follow what Jack think is his destiny - killing Elvis.
Greene, whose dog died when her West Hollywood condo caught on fire last year, has purchased a new mansion in Beverly Hills for $2.4 million. The former "Twilight" star is dating actor Liam Hemsworth's best pal Paul Khoury.
Check out more photos of Ashley on set...