'Bates Motel': An Intriguing Contemporary Prequel To 'Psycho'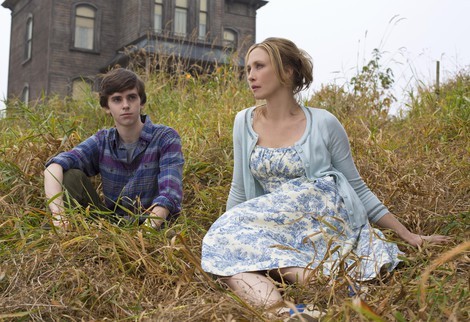 NBCUniversal has two shows on in the next two months that will attempt to explain the twisted backstory of cinema's most well-known murderers. Next month, on NBC, we'll learn about the friendship between cannibal Hannibal Lecter and an FBI agent in Hannibal. And this coming Monday on A&E, we'll learn what happened during his teenage years to cause Norman Bates to impersonate his dead mother and murder a young woman in the shower.
But first things first, Bates Motel isn't a direct prequel to the film Psycho. It can't be—Bates Motel is set in contemporary time, something you might not pick up on right away until after we see Norman use his iPhone for the first time.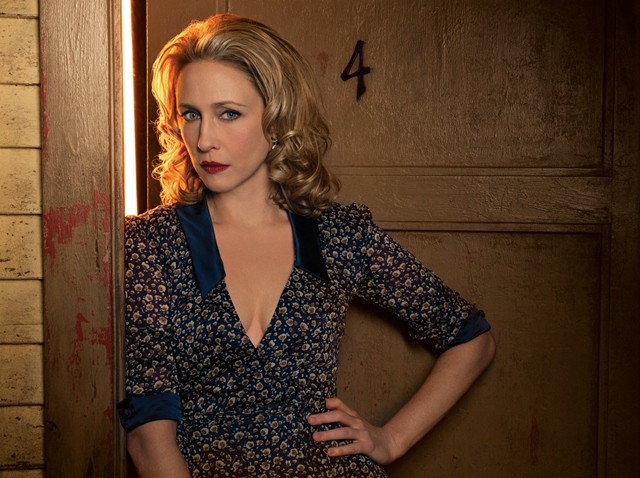 Norman (Freddie Highmore) and his mother Norma (Vera Farmiga) move to White Pine Bay six months after the suspicious (to me at least) death of Norman's father. Norma buys the motel after a foreclosure and wants to get a fresh start with her son.
Norma has another son named Dylan (Max Thieriot) from another father but she only cares for Norman. (Though Dylan does, more or less, move in with the two.)  As you might expect given what happened in Psycho, there's awkward sexual chemistry between mother and son. In one episode, Norman watches his mother in her bra and panties for a few seconds through a window, and in another episode, he looks uncomfortable when she changes right in front of him.
Despite that, Norman has no problem making friends with all of the girls in his new school. That's right… within a few minutes, all of the pretty girls in school take a shine to him, including one named Bradley Martin (Nicola Peltz). He also makes friends with Emma Decody (Olivia Cooke) who has a chronic illness and has to carry around an oxygen tank at all times.
So clearly since he has no problems with girls, we wonder what's going to lead Norman to become a psycho in the future. His mother commits an act in the pilot that she eventually ropes Norman into. That cover-up which at times strain credibility (unless, you believe as I did that Norma murdered her husband) drives the first three episodes I've seen, but there's also a secondary recurring story about Chinese sex slaves that involves one of the supporting characters that I honestly didn't seem coming.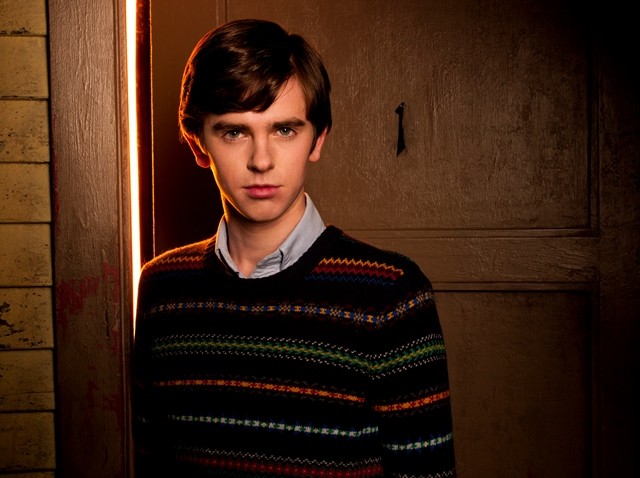 Bates Motel isn't just a prequel that tries to explore what drives a man mad, but it appears to also be a soap about a town with its own secrets. I'll admit I didn't see some of the plot twists coming – and I won't spoil them here – but I wonder how many viewers are going to care about that when all they want to know is what will eventually drive Norman mad.
Performances are fairly strong, especially by Farmiga and Highmore. The only weak spot in the cast is Thieriot, but that may be because he's playing the cliché of the angry other son who turns to a life of crime. Nestor Carbonell (playing Sheriff Alex Romero) is fine as the main antagonist and, well, Mike Vogel (playing Deputy Zach Shelby)… he's the one to watch I think, especially given the events at the end of episode three.
Bates Motel sets up some very intriguing plotlines and I'll admit while I loved the performances, I wasn't sure I was going to keep with the show until the shocking end of episode three. Whether that's going to be enough for you depends on why you want to watch Bates Motel.
Do you seek answers for madness? Or do you seek new mysteries?
Bates Motel premieres on March, March 18 at 10 pm ET on A&E.