'Basketball Wives' Star Evelyn Lozada Would Rather Go Naked Than Wear Fur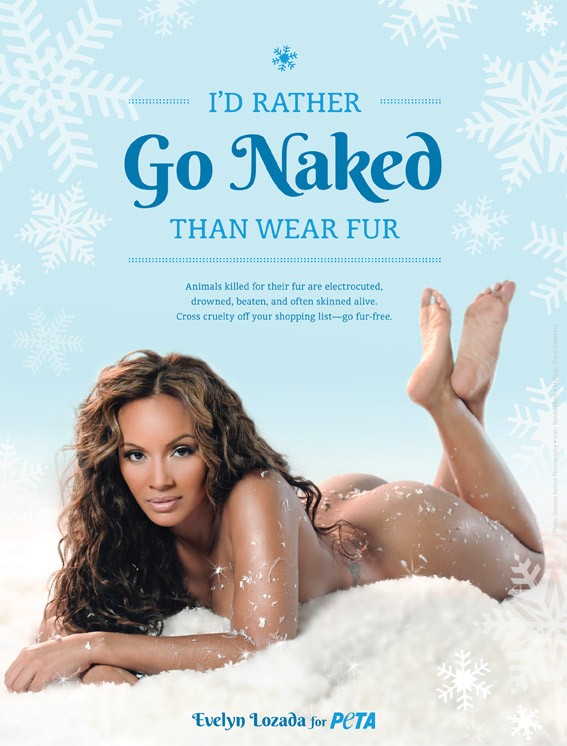 Basketball Wives star Evelyn Lozada stars in a new PETA (People for the Ethical Treatment of Animals) ad for their I'd Rather Go Naked Than Wear Fur campaign.

The reality show star bares her bottom in the new ad, reveals that she used to wear fur, but after seeing how some of the animals are tortured for their skins she had a change of heart.

"You can verbalize what happens to these animals a thousand times, but until you see it... it definitely clicks in—and it did for me," she says in her accompanying video (below, warning: it's graphic).

"I'm an animal lover," she adds. "I was definitely one of those people that wore fur years ago. I was looking online and I [saw] how these animals are tortured and skinned, and you don't really realize the hurt and the pain that they go through just for fashion. I want to be a voice for them.

Evelyn currently owns a shoe boutique in Coral Gables, Florida; and became one of the stars of the hit VH1 reality series because of her engagement to NBA star Antoine Walker. But the couple split after 10 years together; and she started dating NFL star Chad Ochocinco. The couple married in July only to divorce in September over a domestic dispute.

Evelyn hopes her ad will help deter shoppers this holiday season from buying anything made out of fur.

Fellow reality star Joanna Krupa, who stars in The Real Housewives of Miami, recently shot a new ad for PETA as well, this one focused on cutting out garments that feature fur trim.

The Polish-born model goes topless in her ad while wearing a long-haired wig inside her panties to drive the point home that a little something extra looks silly, out of place, and can be downright unattractive (see her ad here).


*WARNING*: Evelyn's video contains graphic images of animal cruelty. Watch at your own discretion.