Barry Manilow Rocks Rochester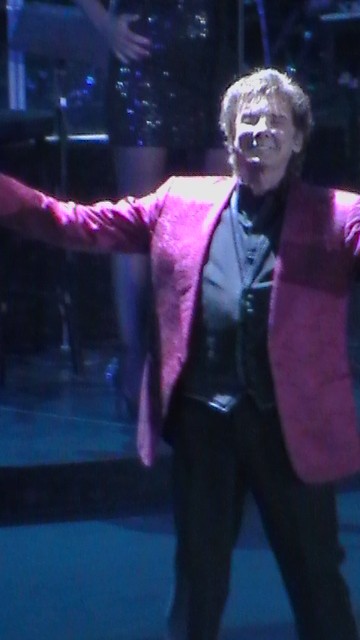 For the near capacity multi generational crowd it was all too short; but the fans at the Barry Manilow concert in Rochester, New York Friday night were jovial and in full voice.  The crowd that gathered in the Blue Cross Arena was in large part female, but there were quite a number of male fans…and children.
Manilow opened this show as he has nearly all his shows for over 40 years, with "It's a Miracle".  Donned in black pants and shirt with a hot pink jacket spent the next hour and a half with two jacket changes as he performed some of his biggest hits and a few not so famous songs from his catalog of over 40 albums.
Manilow remarked that his fans/friends would be doing a lot of singing during the night…and they did joining him as he performed "Could it Be Magic", "Somewhere in the Night", "Looks Like We Made It", "Can't Smile Without You" complete with giant smiley face behind him, "Bandstand Boogie", "The Old Songs", and "Stay".
As a slide of Manilow's "Even Now" album cover was displayed, Manilow told of how he had five hits from the album and told the crowd, "I was the Justin Bieber of the seventies…ask your mother."  He followed with "Even Now", "Brooklyn Blues", "I Am Your Child", "This One's for You" dedicated to his Grandpa Joe, "New York City Rhythm", and "I Wanna Be Somebody's Baby".
Before continuing, Manilow remarked that he was feeling romantic and promised the men in the audience that they would thank him in the morning.  After performing what Manilow called the most romantic song he had - "Weekend in New England" he continued with "Can't Take My Eyes Off of You", "I Made it Through the Rain", "Mandy/Could it Be Magic" as his 1975 Midnight Special performance played behind him, "Copacabana" and finished up with "I Write the Songs".
In each city where he has played, Manilow has spearheaded a campaign with the Manilow Music Project" to bring music back to the schools.  But Manilow is doing much more than just asking fans to donate used musical instruments, he has donated a new grand piano to the school district in each city where he has performed. 
Although Manilow has been making music for most of his life, his audiences continue to grow as new generations of fans join the longtime fans.  Whether they were fans who have followed Manilow since the days of "Mandy", Grandma celebrating her birthday with the family, have become fans because Mom and Grandma are, or a first timer at the show; Manilow drew screams, cheers, and a standing ovation from a crowd that did not want the night to end.