Barbra Streisand Praises Live Singing In 'Les Miserables' Film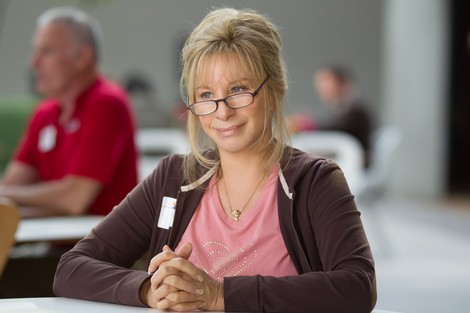 Barbra Streisand is back on the big screen this week in the comedy The Guilt Trip. We don't get to sing because she's playing a regular mom who's not the world's greatest multi-talent superstar. However, while discussing her film at a press conference in Los Angeles, Streisand complimented the upcoming musical film Les Miserables for letting its actors sing live. She said that's how she did it in her classic movie musicals.
"By the way, A Star is Born was done live," Streisand said. "Sometimes with an audience.  I sang live.  I sang live in Funny Girl," at the end of Funny Girl, because that's what they're talking about in Les Mis. I said to Willy [Wyler, the director], 'How do you know where the emotion is going to hit you?' when I was doing 'My Man' at the end.  I'm a terrible lip syncer anyway because I have to be in the moment, and I can't lip sync to something I recorded three months before. So I thought it was great that Tom Hooper used that and let the actors be live."
As a singer, actor, director and all around superstar, Streisand said the recording is her favorite process. "I prefer things that are private, so I love recording and I love making films as a filmmaker because it uses every bit of what you have experienced or know, whether it's graphics, composition, decorating, psychology, storytelling, or whatever it is.  It's a wonderful thing."
Still, Streisand is modest. She admits there's one thing she's not good at. "I can't cook. I can't cook at all. I mean, I would not know how to make coffee. I could sort of boil an egg. Maybe I could figure that one out. I took cooking classes. By the way, I know how to make Chocolate Souffle. Just ask me if I want to make it. I may have somebody else make the Chocolate Souffle and I eat it. I found when I took cooking classes, when I tried to cook, put it that way, it was never appetizing to eat. I mean, I didn't want to eat it.  The joy was gone. I was always filthy with the stuff and covered in it. That's screwed it up. And then, picking up and cleaning up, no, I don't like that."
The Guilt Trip is now playing in theaters.