Barbie Lands The Cover Of Sports Illustrated's 50th Anniversary Swimsuit Issue?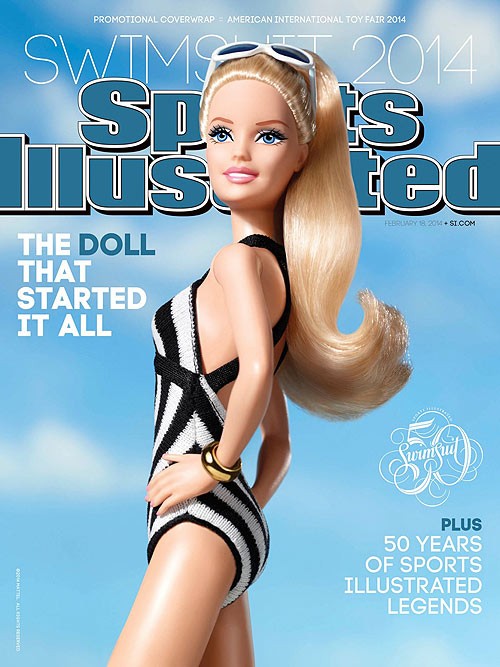 Are Kate Upton's chances of landing on the cover of her third consecutive Sports Illustrated Swimsuit Issue in jeopardy?

Mattel, the company that produces the iconic Barbie Doll, and Sports Illustrated announced on Wednesday that the 55-year-old doll will appear in a four-page spread in the issue in outfits inspired by SI cover girls of the past. Celebrating "The Doll That Started It All," the inside feature was shot by long-time SI photographer Walter Iooss Jr. and features 22 of the dolls.

"As a legend herself, and under constant criticism about her body and how she looks, posing in [the issue] gives Barbie and her fellow legends an opportunity to own who they are, celebrate what they have done and be #unapologetic," Mattel said in the statement.

Barbie won't appear on the actual cover of this year's 50th Anniversary edition -- that still remains a mystery -- but she will feature on a cover wrap that comes with 1,000 copies -- meaning Upton still has a shot of landing the cover. Barbie also appears in the very swimsuit she wore for her initial 1959 release.

Naturally, the partnership is causing an uproar when it comes to body image issues. For decades the doll has caused debates over its figure and anatomical correctness with women's groups claiming it sets a bad example for young girls.

Mattel's new Barbie 'Unapologetic' campaign is a way for the company to hit back at criticism and remind people that it's just a toy.
A limited edition Sports Illustrated Swimsuit Issue version of the doll will be sold at Target.com.
Naturally, reception of the news has been very mixed.