Barbara Walters Names Steve Jobs Most Fascinating Person Of 2011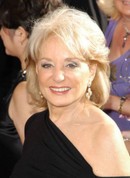 Revered newscaster Barbara Walters has named late Apple co-founder Steve Jobs the year's most fascinating person.

In a TV special on Wednesday, Walters told viewers she once had a rule that the top honor in her annual selection must be given to a living person.

She picked Jobs for the title after he announced his retirement from Apple this summer but decided he still deserved the accolade after he lost his battle with pancreatic cancer in October.

Walters says, "It's unlikely there will ever be anyone like him again."

Stars including Katy Perry, Simon Cowell, the Kardashians and Donald Trump were also featured in Barbara Walters Presents: The 10 Most Fascinating People of 2011.