Barack Obama To Introduce Newly-Restored 'To Kill A Mockingbird'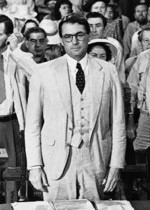 U.S. President Barack Obama will introduce a newly-restored version of the 1962 movie adaptation of Harper Lee's courtroom drama To Kill a Mockingbird when it airs on America's USA Network this weekend.

The film, starring Gregory Peck, has been digitally remastered and restored by Universal Pictures and the American Film Institute, and author Lee can't wait to see it.

She says, "I'm deeply honored that President Obama will be celebrating the 50th anniversary of To Kill a Mockingbird by introducing it to a national audience. I believe it remains the best translation of a book to film ever made, and I'm proud to know that Gregory Peck's portrayal of Atticus Finch lives on."