Barack Obama Releases New DNC Promotion With Harold & Kumar (Video)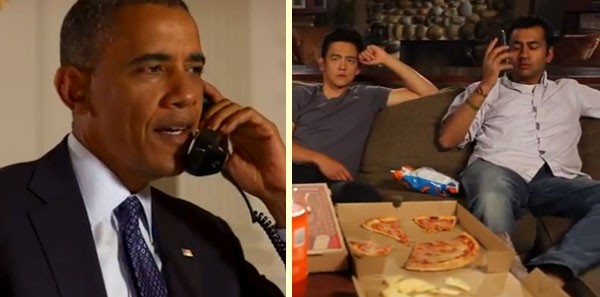 Barack Obama released a video via YouTube on Monday to gear up for the upcoming Democratic National Convention this week. For those that don't know, Kal Penn will be hosting the coverage of the 2012 DNC this week. The video shows Barack Obama on the phone with someone while stressing the seriousness of his duties.
"Hey, this is Barack," President Obama says. "Listen, I need to know if you're on board. Okay, good. Because I'm counting on you. Everybody is. We have to get this right. So there's a lot at stake here. Just remember that I'm trusting you on this and I'll see you then."
The President hangs up and the video pans to a seemingly stoned and unconcerned Kal Penn, who is watching cartoons and eating munchies with his pal John Cho. They are both obviously in their "Harold & Kumar" characters.
Kal Penn joined the Obama administration as the Associate Director in the White House Office of Public Engagement in 2009.
Check out the video below and let us know what you think.