Barack Obama On 'The View': Doesn't Know Who Snooki Is, Justin Bieber Not On iPod (Video)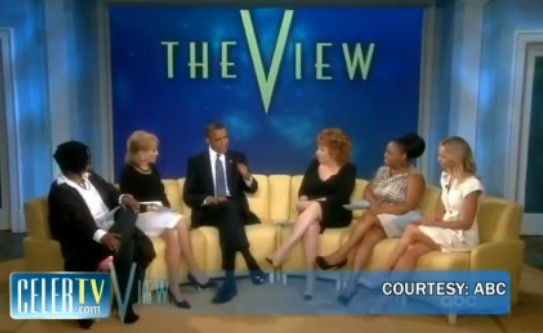 Surprisingly, President Barack Obama was asked a lot of tough questions when he visited The View the other day. But that didn't mean the ladies didn't get to ask him if he's keeping up in entertainment.
"Should Snooki run as mayor of Wasilla?" Joy Behar asked, referring to the Jersey Shore star and Sarah Palin's hometown. "I've got to admit, I don't know who Snooki is," the President responded with a laugh. 
"What's the first couple songs on your iPod?" asked Whoopi Goldberg.

"You name it," replied Obama.  "You name a song; I've got it on there.  I've got Jay-Z on there.  I've got Frank Sinatra on there.  I've got Maria Callas on there."

"Justin Bieber!" Interjected Sherri Shepherd.

"I do not have Justin Bieber on there. I have met Justin Bieber.  He came to sing at the White House.  He's a very nice young man."