Barack Obama & Nicolas Sarkozy 'Checking Out' 16 Year-Old Mayara Tavares? (Picture & Video)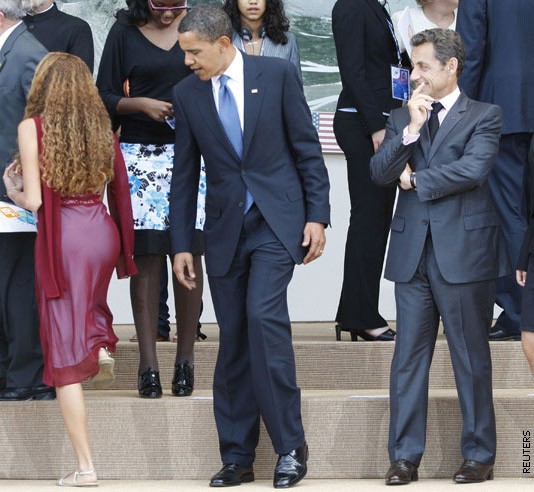 News editors were working late into the night trying to figure out how to add a "-gate" suffix to the "scandal" that occurred during a photo op with junior G-8 delegates, President of the United States
Barack Obama
, and French President Nicolas Sarkozy. "Bootygate?" How about "Baby got Barackgate?" Or "The girl from Ipanema-gate?" Maybe "Junior G-8 Delegate...gate?"
Fortunately for Barack Obama, who may otherwise have received a rather interesting welcome from his wife
Michelle
, there were video cameras there. MSNBC's video, below, appears to acquit Obama. Sarkozy, who is married to the beautiful
Carla Bruni
, only looks increasingly guilty (look for him on the far right).
Watch the video:

16 year-old Mayara Tavares, the target of the apparent gazes from the Presidents, has become a hot search for internet browsers looking to comb over every minute detail she has left online.
Story by
Casey Johnson
Starpulse.com contributing writer
Image © Reuters