Bar Refaeli Sizzles In The September Maxim And Offers Tips On How To Pick Her Up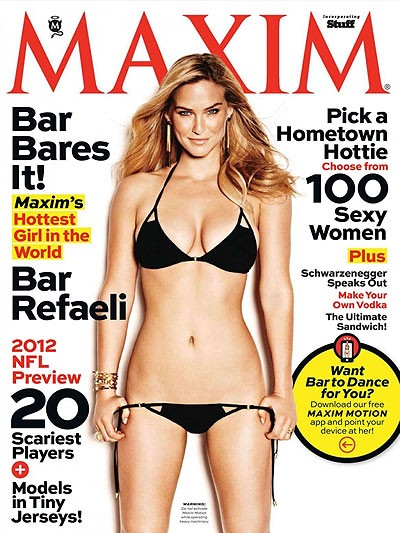 After finishing at number-one on the 2012 Maxim Hot 100 list, it was only fitting for supermodel Bar Refaeli to pose in a variety of swimsuits and lingerie for the September issue of the magazine; and, as usual, she looks amazing.

Refaeli looks amazing in a range of designs that include a tiny black bikini and white lace lingerie in several seductive poses.

But the sexy star is humble about her new title. She tells Maxim, "It doesn't feel real, because I still can't believe it. I feel like someone's going to call and tell me that there's been a mistake."

We don't think there's any mistaking it. The former girlfriend of Leonardo DiCaprio isn't seeing anyone these days, and she's also got some tips on how to pick her up.

"If someone is funny, he should say something funny," she says. "If someone is sweet and gentle, he should talk that way. Just be yourself. I don't like when guys act too cool for school.

"Like, the other day I was the airport, and there was a cute guy who I saw notice me," she adds. "But instead of coming up to me, he put his head down and started texting to appear like, 'Oh, I didn't even see you!' I was like, 'If you really were cool, you'd just be yourself and talk to me.'"
Read Bar's full interview at Maxim.com!
By the way - the Maxim Motion app noted on the cover really works, even with this image on your computer screen. - ed.