Bar Refaeli Shows Her Sexy Curves In A Skin-Tight Lace Bodysuit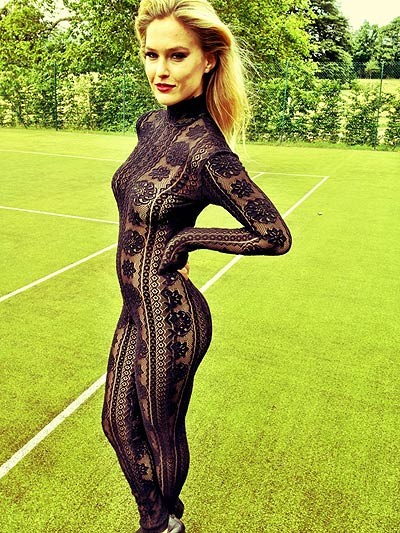 Bar Refaeli, who was named wthe world's hottest woman back in May by Maxim Magazine for their annual "Hot 100" list, recently spent vacation time in her native Israel, taking in the sun on the beach and paying homage to Nirvana while in a pool.

No, she wasn't swimming naked and chasing a dollar bill on a fishing line; but she did post a couple of underwater shots with the caption, "Feels like teen spirit," last week.

Monday night she posted a photo of herself in a skin-tight lace bodysuit from her newest photoshoot with the caption "Today's photo shoot.. Can't wait for u guys to see it!" Tuesday morning, the supermodel followed up the post with another image from the shoot, this one for a "special friend."
She also showed a head-shot, focusing on the make up job artist Mary Greenwell did on her. "At work, feeling so pretty! make up by @marygreenwell," she writes.

Bar also did some goofing off during her holiday, she layed out in her bikini on an inflatable mattress on the beach during her "last day of vacation," simply tweeting, "Haaaaaaaaa."