Bar Refaeli Raises Millions In Minutes To Fund Sex Tape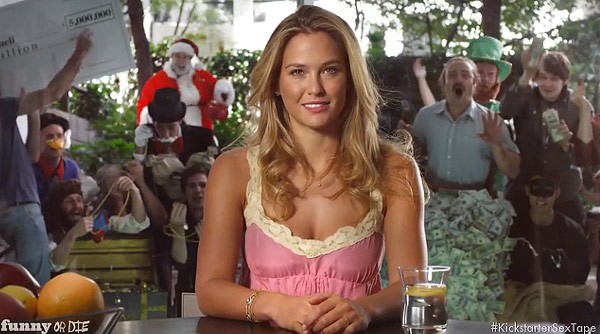 Bar Refaeli wants to make her own sex tape. The stunning Israeli supermodel has thrown her hat in the ring and begun a Kickstarter campaign to raise cash for a High-Definition romp "with a dude."

Obviously (unfortunately?) the whole thing is just a joke for a new video from comedy website Funny Or Die.com -- Bar Refaeli isn't planning on tainting her career with a sex tape.

"I know what you're thinking -- this sounds like a pretty esoteric project," she says on the actual Kickstarter page created to go with the funny video. "I agree- frank sexual portrayals in film are often frowned upon. But let me offer the following counter-argument: I'm really good at sex and I like doing it, and if I know other people are watching me have sex, I will have better sex. Does that make sense?"

In Bar's video, she puts out a plea for viewers to donate to her cause, hoping to raise $10,000 to fund a well-done video using the best equipment available; such as "the clearest HD camera to capture my naked body perfectly." Bar also gives some incentives to potential donors: $50 gets an autographed picture of Bar having sex ("if you're into that kind of thing"); $200 gets donors a "set visit"; and anyone who coughs up $1,000 will have a chance at being the lucky "dude" she shoots the video with.

Naturally, her target is blown away in seconds as she raises nearly $1Billion.

Check out the video below!