Band's Attempt To Make A Name For Itself With Racist 'Asian Girlz' Video Fails Miserably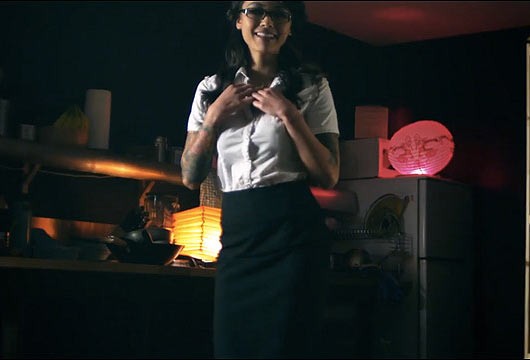 With all the racism talk going around lately following the verdict in the George Zimmerman/Trayvon Martin case, it's really not a bright idea to go and release a new single about Asian women and include blatant references to every slang term and stereotype -- but that's exactly what the band Day Above Ground just did (don't feel left out, we never heard of them either).

The video for their song "Asian Girlz" features lyrics about "yellow thighs," "slanty eyes," nail salons, massage parlor 'happy endings,' and fried "lice" -- and the band claims that they're not racist!

Looking like a cross between Sugar Ray and Blink 182 and sounding likeMaroon 5, Day Above Ground's career will certainly be heading below ground soon, and their defense of the song isn't helping.

The band says the song isn't racist and it's not a joke, but is a "tongue-in-cheek tribute to some of the most gorgeous women on the planet," according to the original description of the video on the band's YouTube page.


This song is us, Day Above Ground, making fun of ourselves (and many, many other guys) obsession with the always lovely, Asian Woman. It pushes this concept to an absurd level, but at the same time is endearing & submissive.. WE ARE NOT RACIST, HAHA! I mean, look at our band, it's multicultural!! The guy in the bow-tie, our cutie bass player, was born in Indonesia, and he steals the show!! Please don't take this tongue-in-cheek tribute to some of the most gorgeous women on the planet too seriously!! You'll ruin the fun of it all!! Thanks for watching, sincerely!!
The band, which released the video a few days ago, has since felt the backlash and changed the description to further claim that they're not racist and thank viewers for their criticism (which we assume is a lot) and support (which we assume is very little).


This is Day Above Ground reposting this video with a new description as a response to all the comments we received on this video. We appreciate all the criticism and support. Our song "Asian Girlz" was not written with any malicious, hateful, or hurtful intent. We know it is racy and does push the boundaries further than other songs out there. Understand that we do not promote or support racism or violence. We love everyone no matter what race, religion, or sexual orientation. Please respect our decision to delete any violent, insensitive, or hurtful comment and also one that supports racism. We hope that we can continue with our lives with much love and peace.
The video for the song stars sexy Vietnamese fitness & tattoo model Levy Tran, who also came under fire for starring in the promo. She apologized via twitter on Wednesday.

"I sincerely apologize to all who feels that I set Asian women back 50 yrs.," she wrote, "I know I lost respect from a lot of ppl. It wasn't my intention."

She added a second brief apology and defense of the song again on Thursday.

"It was meant to be light hearted and fun. Satirical. They are sweet boys and not at all racist. That is all I will say. I'm sorry once again," she wrote.

Check out the video below (warning: explicit language)...


The video was shot in part in Chinatown and Koreatown, and features scenes at the end with folks celebrating their Asian heritage. We're pretty sure they're gonna be pissed when they see what they signed up for.

The band is set to debut the song at the House Of Blues in West Hollywood next weekend. We'll keep you informed on how well that goes over (currently there's a petition to stop HoB from allowing them to perform).

Supermodel Chrissy Teigen, who is Asian herself, may have said it best:

"The lyrics of "asian girlz" don't offend me nearly as much as the poor video production and complete lack of talent within the band," she tweeted.