'Bad Teacher' Forcibly Pushes The Comedic Envelope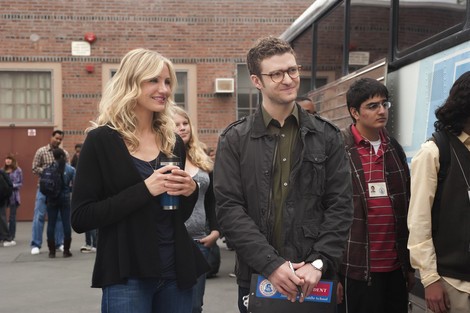 If "Bad Santa," uh…excuse me, "Bad Teacher," is on your must-see list, it's probably because you're curious to watch Cameron Diaz as an unapologetically rude teacher.  Don't feel ashamed though.
Your interest is logical, since there's serious comedic potential whenever an actor breaks away from normal type casting.  It can be risky if the actor flops, though it can be a real treat if he or she successfully plays a new type of role.  At first, "Bad Teacher" rewards you for taking the plunge, by creating laughs with some subtle humor and great editing. 
You're initially introduced to the teachers in the film at a faculty party, where we find out that Elizabeth Halsey (Diaz) will be leaving her job to get married.  The principal presents her with a cheesy gift and asks her to say a few words.  So Elizabeth delivers a phony spiel about loving her students and wishing she bonded more with her fellow teachers.  We know she's faking sincerity however, because director Jake Kasdan skillfully splices in flashbacks, in which she purposely avoids a crying student and other teachers enjoying a birthday cake.  Funny, right?        
Halsey speeds out of the school parking lot, planning to celebrate her freedom, at her sugar daddy's home.  When she arrives though, her fiancé Mark (Nat Faxon) drops the bomb that he's breaking up with her.  What actually makes this scene humorous, instead of sad, is Elizabeth's pathetic attempt to prove she cares more about Mark than his money. 
The film jumps to three months later, where Elizabeth reluctantly crawls back to her former teaching job for cash.  Her only motivation seems to come from her desire to net another rich man who will take care of her.  When she meets her school's wealthy new substitute teacher Scott Delacorte (Justin Timberlake), Elizabeth sees new guy to take advantage of.  She makes a move on him, but what she's not anticipating, is that a fellow teacher also has eyes for him.  Elizabeth finds herself locked in a rivalry with the nutty Amy Squirrel (Lucy Punch), a stereotypical overachiever on the verge of a nervous breakdown.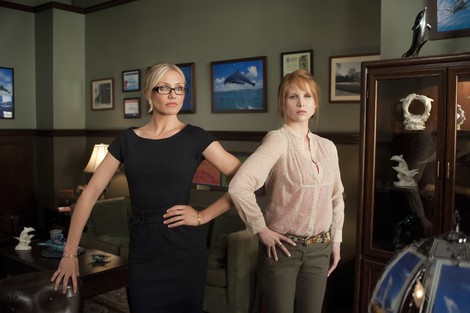 This is where "Bad Teacher" devolves into a single running joke essentially, that ruins the remainder of the movie.  Elizabeth decides she needs a breast enlargement to snare Scott, which she learns is incredibly expensive, so she plots a series of messed up ways to obtain the necessary funds.  Her quest for a new chest forcibly pushes the comedic envelope to show the sinking depths of Elizabeth's depravity to accomplish her goals.
During these outrageous scenes, it feels like the filmmakers are checking off a list of cliché gags like boners and pot smoking just so they can feel justified with an R-rating.  It's clear that "Bad Teacher" attempts to mimic the successful twisted humor of "Bad Santa," but because writers Lee Eisenberg and Gene Stupnitsky force these moments, they're not very funny. 
This is not the only area where "Bad Teacher" fails to match up with "Bad Santa" however.  As a viewer you can't get invested in Elizabeth since Eisenberg and Stupnitsky paint such a horrible portrait of her.  Her selfish deeds make it impossible to latch onto her as protagonist, which makes her story feel like a waste of time.  In short, "Bad Teacher" is like a poorly constructed, less funny copycat of "Bad Santa," so you if you're looking for laughs go with the latter over the former.                            
My Grade: C-