Backstage At The Nokia For The Emmy's HP TouchSmart Gift Lounge
Awards shows always have some of the best perks in the biz and swag was definitely not lacking for the Emmy's this year at The HP TouchSmart Gift Lounge backstage at the Nokia Theatre!
Moments before winning the Emmy for Best Supporting Actor, "Modern Family's" Ty Burrell was backstage enjoying the HP TouchSmart Gift Lounge where he was overheard telling a friend that his wife is the one who should be honored for her supporting role, saying "I've been unemployed most of my life, so its great to be working." 
Ty wasn't the only star feeling the support of his loved ones at this year's Emmy Awards.  As she sipped a warm Nespresso cappuccino, "Mad Men's" Christina Hendricks was overheard saying how wonderful it is to be filming in the same city as her husband, "Body of Proof's" Geoffrey Arend. Christina also took off her Christian Louboutins to rest her feet in a pair of New Balance sneakers.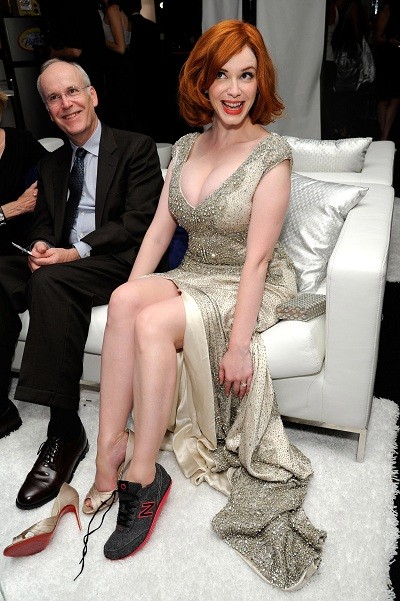 Amidst the chaos of hosting the 63rd Primetime Emmy Awards, Jane Lynch took advantage of a free moment to sneak across the hall to the HP TouchSmart Gift Lounge where she tested her Angry Bird skills for charity (check out Wilmer Valderrama in 1st place below!) before rushing back to her green room for a costume change.  While Jane prepared to announce the next category, two of her "Glee" costars, Lea Michele and guest star John Stamos, visited the lounge's I Can't Believe It's Not Butter! Toast Bar to "toast" the cast.  On her way out of the lounge, Lea spotted Jane's green room across the hall and jokingly told her manager that she wanted to sneak in and scare her costar as the two are always joking around.  Luckily for Jane, Lea's manager said there was no time to spare as she rushed her into a private holding room with "Vampire Diaries" Ian Somerhalder.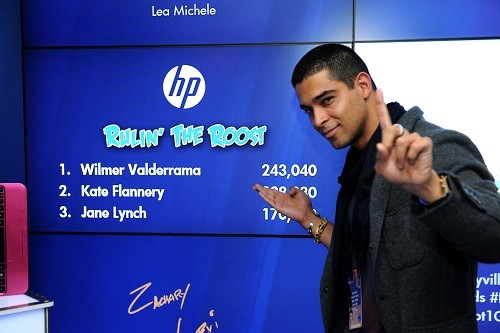 After picking up the new Hasbro Simon Flash for their kids, "Dancing With the Stars" host Brooke Burke and her French, "Baywatch" alum husband David Charvet joked about how he used to play scrabble to improve his spelling when he was first learning to speak English.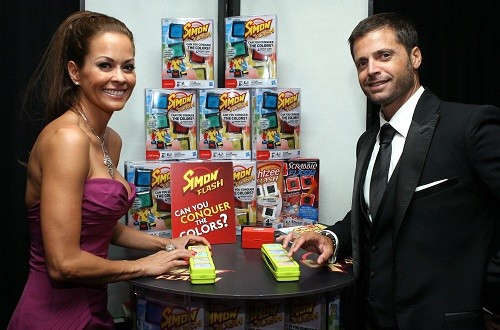 Across the lounge, both Mario Lopez and Maya Rudolph were excited to order personalized Sarah Chloe Jewelry; Mario created a necklace for his wife with their daughter Gia's initial, while Maya designed a gold "J" charm to add new son Jack to the necklace she wears everyday.  From Brooke to Maya, everyone was honored as Rob Lowe and his two sons stopped by the I Can't Believe It's Not Butter! Toast Bar to "toast all the mother's of America." 
Though they were gathered to celebrate the achievements of the past season, stars were abuzz about new TV shows as they mingled about the HP TouchSmart Gift Lounge backstage at this year's Emmy Awards.  Just a few days before debut of "Charlie's Angels" costars Minka Kelly and Annie Ilonzeh stopped by the HP TouchSmart Gift Lounge to make sure everyone knew to tune in for their new show. At the I Can't Believe It's Not Butter! Toast Bar, the angels "toasted" their show before trying to recreate Farrah Fawcet's classic do with the new Sedu Icon Prive Hair Dryer.  
No stranger to the spotlight, Paula Abdul picked up an AMC Signature Pass and enjoyed the I Can't Believe It's Not Butter! Toast Bar as she told a friend how excited she was to be back on a show, especially with her good friend Simon Cowell.