'Back To The Future' Lives On In High Style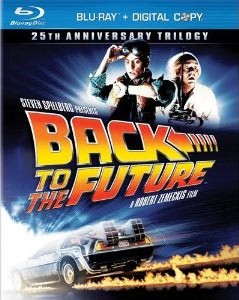 This week, the Back to the Future trilogy comes out on Blu-ray for the 25th anniversary of the original film. For boys who grew up with a childhood crush on Marty McFly's girlfriend, there is a unique opportunity to get up close and personal with Jennifer Parker in Los Angeles.
Claudia Wells played Jennifer in the original Back to the Future. In 1991, she opened the resale menswear store Armani Wells in Studio City, CA. To this day she offers private dressing sessions where she will pick out shirts, jackets, pants and more for a man and physically dress him up.
"If I didn't realize how much I love acting, I would think this is the greatest thing I've ever done in my whole life in terms of pleasure," Wells said in her store. "It's creative, it's of service, I get to make men gorgeous. Guys are just the greatest customers in the whole world and we love what we do here."
Wells has special sources for designer brands that she can sell for hundreds or thousands of dollars off. She can guess a man's size without measuring you, and will even button you up as she slips shirts and jackets on your body. "You don't ever have to button yourself in my store," she said during a custom fitting. "You just walk in and we take care of the rest. It makes life easier."
If you're feeling nostalgic about Back to the Future, you can find her in her store on Ventura Blvd. Call (818) 985-5899 or make an appointment on her website, and become a regular.
"My guys are regulars from the beginning. I have the same guys shopping here that started 19 years ago. Then they bring their friends but the best thing to do if you can is to make an appointment with me so I can be sure to be here. If I'm not here, we have Sissi who is princess magnifique. She's wonderful, she has great taste and she's terrific. It's just if you specifically want me to style you, it's easier to make an appointment. We also do morning appointments and evening appointments."
She still acts, but Armani Wells has become her passion for almost two decades. "I mean, 19 years. Every single day I'm here is as much fun for me as the first day I opened and that's the God's honest truth or I wouldn't do it. I love it."
The Back to the Future Blu-ray trilogy is available Tuesday. Visit Armani Wells at www.armaniwells.com.