'Bachelorette' Stars Trista & Ryan Sutter Still Together After 10 Years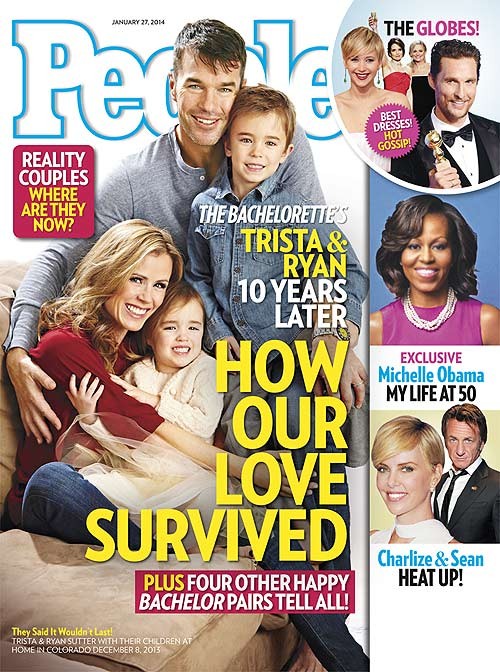 After 26 seasons of the show, most of the couples who have appeared on The Bachelor have succumbed to the reality that building "forever" with someone they've known for mere weeks defies logic. Then again, who said love is logical? Three couples have made it to the altar – and two more are headed there. The Bachelor's surviving couples (Trista & Ryan, Sean & Catherine, Jason & Molly, Ashley & J.P., and Desiree & Chris) open up about making romance last – and what lies ahead – in this week's issue of PEOPLE.

Trista & Ryan Sutter: Together since 2002; married since Dec. 6, 2003
Even now, after two kids and a decade of marriage, Trista acknowledges that making their love last seemed pretty unlikely. "The way we got together is so not normal!" she tells PEOPLE with a laugh. "But we do live a normal life. Yes, we met in a fantastical way. But it's really what we did after the show that mattered." As the very first pair – and just one of three couples from The Bachelor and The Bachelorette to make it to the altar so far – Trista, 41, and Ryan, 39, are the reigning king and queen of reality romance. And from the moment they tied the knot in a televised wedding (watched by more than 26 million people) to the day they renewed their vows last December, the couple have remained mindful of the fact that they're beating the odds. "Truthfully, it was after three or four dates that we got engaged. That's not highly recommended," Ryan admits now. "But when the show was over, I saw Trista didn't need the cameras. Our roots grew deeper and deeper."

One relationship building block? Trista, a former pediatric physical therapist and cheerleader with the Miami Heat, transplanted her life from sunny Florida to snowy Vail, Colorado, where Ryan is a firefighter. "She gave up a lot to move here, and that gave us a great centered balance," says Ryan. Having a marriage on solid footing was essential when the Sutters tried to expand their family and found themselves grappling with infertility. The couple tried for two years and went through multiple procedures – an ordeal Trista later described as "incredibly uncomfortable and oh-so-unromantic – before she conceived son Max in 2006. Now a stay-at-home mom to Max, 6, and daughter Blakesley, 4, Trista is more than happy to be living a quiet life (mostly) away from the spotlight. They cherish "the private moments, not all the hoopla," she says. Adds Ryan: "We always get [people asking us] 'What's your secret?' I don't have an explanation why we're successful and other people weren't. Some of it's luck. But a lot has to do with priorities and commitment and understanding what love is beyond the initial euphoric state."

Though recent vow renewals have spelled doom for reality couples ranging from assorted Real Housewives to the Gosselins, Trista and Ryan were eager to commemorate their 10-year anniversary by saying "I do" all over again. "It's a great milestone, and we wanted to celebrate that," Trista explains. Fans of the couple's on-air courtship will remember Ryan reading a love poem he'd written for Trista aloud in one episode. He has continued to write his wife poems, but at the vow renewal, in a nod to their early days, he re-read the letter he wrote Trista in 2003: "Our guy friends were crying!" Trista says.

There was just one pronounced difference from their first trip down the aisle: The couple, now tired parents of two, realized they'd wrapped up the entire event before midnight. The first time around, Trista points out, "we were on the dance floor until 4 a.m.!" Their days of late-night debauchery may be history, but Trista and Ryan aren't complaining. "We're a couple with normal issues," says Ryan. "When we have disagreements, we find tools to help us build our marriage. But it's hard to articulate how lucky I feel to have Trista. I cannot imagine my life without her." His bride is still blushing. "Ryan is not only a wonderful husband but the best father I could hope for my kids," Trista says. "It's an understatement to say I hit the jackpot."

Trista & Ryan and four other happy Bachelor pairs are featured in the new issue of PEOPLE, on newsstands now.