'Bachelorette' Recap: A Western Porno, Unicorn & 'Cheese Ass'

On the latest episode of
The Bachelorette
, Ed from Chicago, a guy who seems pretty sane and normal, went on a helicopter ride in which they landed on a building and then zip lined down from it. Slowly. They said it was a romantic zip, but it looked equal parts boring and scary, if that's possible.
Then it was back to the Meathead Mansion where the group of guys were discussing the pattern of Jillian giving a rose to every guy with an individual date, and the boys were speculating that she doesn't have the heart to say no to any of these guys. It does seem that way . . .
Then she took eleven of the boys on a group date in which they filmed a Western film that looked more like a Western porno because the script outlined that she made out with every guy in the cast, except the two who were cast as gay cowboys. Yes, this was what they did on their group date.
Later Reid, the shy guy, was gearing up to go in for a kiss when Juan came waltzing in with one of his famous interruptions, and we at Starpulse are not sure if it's entirely appropriate to cue the Spanish music at those times of the show, but they do it, believe it or not. What was Reid waiting for? She hasn't refused to kiss any guys yet. In fact, some of her kisses look like she's ready to round second base with her aggressive make-out sessions. Time of her life . . .
She is in a hot tub with eleven of the guys and Tanner P., a.k.a. the Foot Pervert, wastes no time taking out her feet to kiss them. In an interview she comments, "And I'm like, 'sure, kiss my feet.'" She doesn't find that at all strange? Later he would say, "I came here to suck on some toes and meet Jillian." Does she just like the attention so much that she can look past the goofiness of this guy?
Sasha and her seem to have a good date until she asks, "So, what's the story with your exes? Are there some you still keep in contact with?" What a strange question to ask. What's Sasha supposed to say? "Sure, there are a number of them I'm still sleeping with, since you brought it up." No, he didn't say that, but something about his response about never really being in love rubbed her the wrong way because that is what she cited as the reason she denied him a rose right then and there, and get this, put him on a bus! Not even the standard limousine for poor Sasha. He said that he was looking for that special girl, his "unicorn," and she couldn't possibly live up to that. "Go find your unicorn on the Grey Hound, buddy!" No, she didn't say that . . .
Wes the evil country singer came by her window to serenade her, and it worked because she let him come upstairs where he finished his song. She said she loved it, they hugged, and then he said, "Glad you liked it. I'm going to play it again." But you're already upstairs, and she already heard it. What's the point of that? Maybe the other Bachelors' suspicions about him being on the show just to further his country career aren't too far off.
David, the angriest man of all time, was interrupted by Juan, again, to the sounds of the Latin music, and he responded by excusing himself and getting blind drunk and yelling about it to anyone who would listen. He then confronted Juan, telling him that he was mad about him faking doing a shot on a previous episode, and he contends that Juan needs to stop being a "cheese ass." One bachelor was quoted as saying that it looked as if he were about to kill someone, and another warned Jillian in private that he is off his rocker. Instead of heeding his warning, she kicked him off and kept Crazy David. Oh, Jillian . . .
On the next episode, David is seen going in for a kiss and being the first guy to be denied. Be careful, Jillian. This guy is a little nuts. Maybe ABC should start testing for steroids. Better yet, maybe all the bachelors should be on "the juice." That would make for some television right there . . .
Come back to ABC for another episode next week, and be sure to come back to Starpulse for another recap.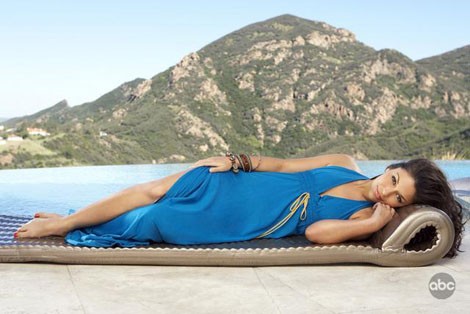 Image © American Broadcasting Companies, Inc
Story by
Matthew J. Swanson
Starpulse contributing writer
Click here to follow @Starpulse on Twitter!