'Bachelorette' Break-up: Why Ali Fedotowsky Left Roberto Martinez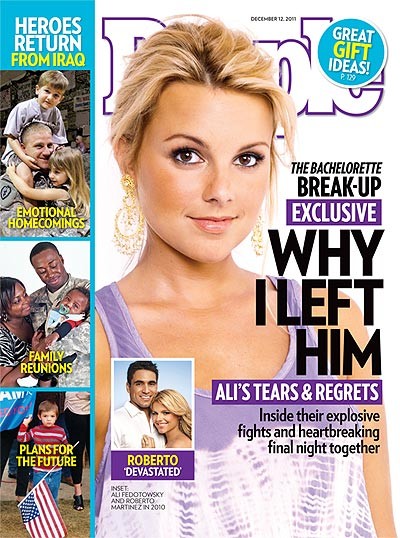 After an 18-month engagement filled with fighting over everything from their wedding date to their weekend plans, former Bachelorette Ali Fedotowsky reveals exclusively to PEOPLE magazine in this week's issue why she and fiance Roberto Martinez have finally called it quits. "I wouldn't be being truthful if I said this came out of nowhere," Ali, 27, tells PEOPLE through (many) tears in her first interview since the split, just days after moving out of their San Diego apartment. "We definitely had been having problems. But I had always believed that we could work it out." For his part, Roberto, 28, "kept believing and hoping that they'd find a way," says a source. "He's still in shock that it's really over."

To fans of the show, the bubbly, athletic blonde and her tall, dark and handsome beau seemed poised to beat the odds that stand in the way of reality-TV romance. (For the record: Two of seven Bachelorette couples are still together, and exactly zero of 15 original Bachelor pairs.) Off-camera, the duo got off to a rocky start, with Ali admitting she wasn't thrilled with their tight quarters in an 'industrial' area of San Diego, their chosen new hometown. Roberto, who had relocated from Charleston, SC, worked to set up a new State Farm insurance office, while Ali, who left her job at Facebook to take part in The Bachelorette, struggled to define her career path, working as a local news correspondent and signing a deal for a Style Network hosting gig that eventually fell through. "We were trying to establish ourselves individually," Ali concedes, "but a relationship should be solid regardless of circumstances."

When it came to day-to-day issues, their different interests started driving them apart. "A lot of times what I wanted to do and what he wanted to do didn't match up," she says plainly. "One of us was always compromising with the other, or we both ended up not doing what we wanted and staying home." When she injured her femur kickboxing and had to undergo surgery in July, "it really affected us," she says. "I couldn't really be active like I wanted to be. I hit a low." Before long, minor differences gave way to more challenging personality clashes. When it came to their free time, "he would rather be alone on weekends," says Ali. "He's more introverted. I love being around people and sharing stories and going out to dinner."

But a source close to Ali says one of their biggest issues was Roberto's temper . which was often triggered by arguments over his traditional, conservative values. "Roberto seemed bothered that Ali was career-minded and had a social life. He is very old-fashioned when it comes to a woman's place," says the source. "In the past six months he kind of lost it. He'd be really good and sweet in public, but their fights could be explosive."

As their relationship began to disintegrate, the pair still held out hope of pulling together a TV wedding "to share with our fans," Ali told PEOPLE in September. All the while, Ali defended their relationship as rumors of strife hit the Internet. She moved in with friends for a weeklong trial separation in November . then gave her relationship one more shot. "I went back to our apartment and cooked this Spanish dish that his mom makes to do something special for him, so we could have dinner and talk," she recalls, breaking down in sobs. Instead the tension-filled meal only served as confirmation that they were over. "At the end of the day, we both realized we were unhappy more than we were happy," Ali says. "And we both deserved more."

When she was moving out her belongings a few days later, Roberto stopped by. "We hugged each other. And he broke down, and I broke down. It was a very emotional experience." Now Ali, who is staying with friends in San Jose, CA, will have many more decisions to make. "All of my things are going to be in storage until I figure out what to do," she says. "I literally don't even know where I want to live, never mind what I want to do." The first step, though, is healing. Ali and Roberto "still talk every day. I found real, true love, and I'm grateful that I had that experience," she says, adding emphatically, "There's no hate. I still love him, and I always will. But what matters is how we feel, and we both knew it wasn't right."


*ALSO IN THIS WEEK'S PEOPLE*

Britney Spears Turns 30: "Britney really wants to get married and have another baby"
Rendezvous in paris for Ryan Gosling & Eva Mendes
J.Lo's new guy & new drama: "Marc thinks her new guy is [too] wild"