'Bachelorette' Ashley Hebert's Shocking Betrayal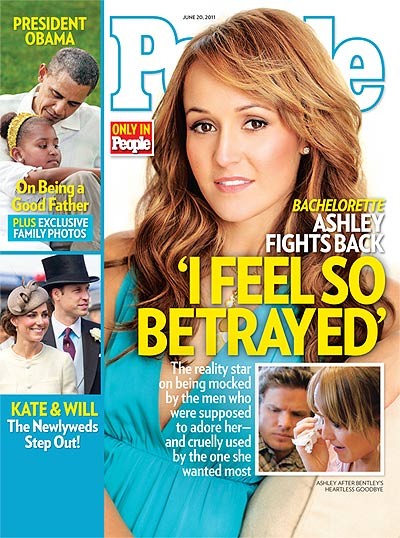 Emotions run high as Bachelorette Ashley Hebert opens up exclusively to PEOPLE in this week's issue about being caught in a "web of lies" and the cruel humiliation she endured while filming the reality show. Months later, when the 26-year-old University of Pennsylvania fourth-year dental student viewed the footage of her tearful farewell to contestant Bentley Williams, a frontrunner for her affections who abruptly withdrew from the competition, she says, "I feel so betrayed."

Ashley had been smitten from the moment she met Bentley, 28, but things dramatically changed when she began watching the season and discovered what he had actually been saying on-camera behind her back. During the first three episodes, the divorced father and Salt Lake City resident intentionally led her on, all the while giddily confessing in his one-on-one camera interviews that "I don't care about Ashley at all." The jaw-dropping blow came when Bentley flippantly remarked to the cameras that he was really hoping Emily Maynard, the North Carolina single mom who got engaged to Brad Womack last season, would be the Bachelorette. "She's so breathtakingly beautiful," he said of Emily. "Ashley kind of looks like an ugly duckling to me."

"I'm extremely humiliated," a still-reeling Ashley, whose insecurities derailed her budding romance with Brad Womack last spring on The Bachelor, tells PEOPLE exclusively. And though Bentley had also quipped on-camera that he'd "rather be swimming in pee than plan a wedding with Ashley," it was the Emily comparison that truly stung. "When he called me an ugly duckling, that's just too much," Ashley says. "He had intentions to really hurt me - and he did."

As a longtime Bachelorette viewer, the Maine native had long been familiar with the dramas that unfold each year on the show. Still, nothing prepared Ashley for the one-two punch of having to relive emotionally charged events and, worse, endure a fresh round of humiliation courtesy of the comments Bentley made that she hadn't seen before. As he set about duping her and his fellow contestants, whom he called "tools" and "idiots," Bentley gleefully told the cameras, "I played everyone…That's never been done before."

To be fair, Ashley had been warned about Bentley last March, via a text message from her fellow Bachelor contestant Michelle Money, a friend of Bentley's ex-wife. But because she "looks for the good in people," Ashley says she opted to form her own opinion about him and the other 24 suitors who were about to court her. "I thought, 'I'll be able to read this guy when I meet him,'" she explains, stressing that "he did and said everything a girl would want to hear. He was so affectionate, always rubbing my arm, leg, hair, neck. I was reading those things as him being sincere. He really tricked me."

Several times during each episode, Bentley made sure to denigrate Ashley during on-camera interviews stating that "I'm not going to pass up an opportunity to mess with her head." Ashley, meanwhile, was falling in love. "My heart races when I'm with him," she said on-camera. "I feel like I could trust him forever." Bentley's betrayal was even more gut-wrenching as it came on the heels of the ill-fated "roast," another emotional low point, where Ashley was mocked by the men who were supposed to adore her. One called her "Brad Womack's leftovers," and another added, "I thought I was signing up to be with Emily or Chantal [O'Brien] and then Ashley's here. Really, who gives a f-k?" Soon after, Bentley decided it was time to pull the plug on his charade. "I'm going to make Ashley cry," he told the cameras as he went to break the news that he was leaving.

While Ashley remains mum about whether she made a lasting connection with one of the season's remaining bachelors, she says, "I'm so happy with where I'm at. I'm in such a good place right now." Despite her apparent happy ending, she still feels incredibly betrayed by Bentley and the side of him that she only recently discovered along with Bachelorette viewers. "Maybe I'll look back and laugh at this," she says. "Right now, I'm not in a laughing mood."


*Also In This Week's 'People'*

-Special: President Obama On Being A Good Father - Plus Exclusive Family Photos
-Kate & Will's First Public Outing As Newlyweds
-LeAnn Rimes: "I Was Called Fat At 15, And Now People Say I'm Too Skinny"
-Neil Patrick Harris: "I've Never Had To Sleep With Anyone To Get A Job"
-Laila Ali Shows Off Baby Daughter Sydney J: "She Looks Like Me When I Was A Baby"


Check out all these stories and more at PEOPLE.com and in the new issue of PEOPLE Magazine, on newsstands now!