'Bachelorette' Ashley Hebert Opens Up About Her Engagement To J.P. Rosenbaum & Her Family's Disapproval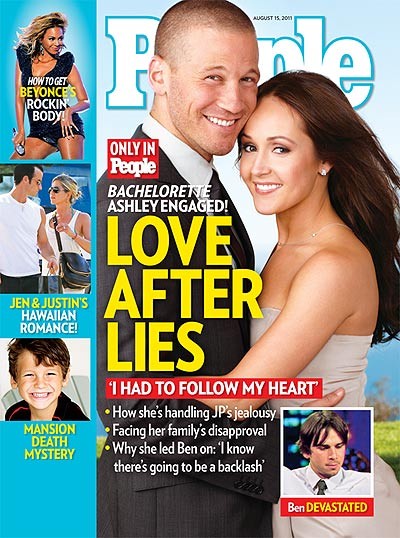 After a season filled with betrayal, backstabbing, and heartache while searching for a mate on The Bachelorette, Ashley Hebert, 26, and J.P. Rosenbaum, 34, open up to PEOPLE in this week's issue about their romantic engagement – and the bumps they've encountered along the way to the fairy-tale ending Ashley had long imagined: standing tearfully on a Fiji beach while the man of her dreams, New York construction manager J.P., got on bended knee, took her hand in his and asked her to marry him. "I will never forget that moment," Ashley tells PEOPLE, while gazing joyfully at the $60,000 Neil Lane engagement ring she can now finally wear in public. "For the first time, we were able to be so open with how we felt."

As the couple watched their romance unfold onscreen each week, J.P. was gripped by jealousy as he watched his fiancée woo her other potential suitors – especially the now-infamous Utah businessman Bentley Williams and Sonoma, California winemaker Ben Flajnik, the runner-up who was left in tears as Ashley rejected his marriage proposal moments before accepting J.P.'s. "I tried to stay focused on the fact that I signed up for this," J.P. tells PEOPLE. "But it stings." And J.P.'s own feelings began shifting when he saw how much Ashley continued to pine for malevolent liar Bentley onscreen, even after his departure. "To see her speak of another guy that way? It hurts," he says, admitting that the couple had a few tense conversations as a result. "But she is totally sympathetic every time I want to vent about it."

J.P. also took a relentless pounding from the tabloids, which accused him of keeping secrets from Ashley, being a fame-seeking womanizer, and exaggerating the heartache he suffered after splitting from his previous girlfriend. "A girl broke my heart," J.P. says simply of his 2008 split (he denies all other reports). "I wish her well and don't have anything negative to say about her." Both Ashley and J.P. swear the media attention will not affect their love. "There's so many things you could potentially argue about," Ashley says. "We've figured out how to talk through disagreements." J.P. adds, "We call them 'show misunderstandings' and move on."

When it came time for the finale on August 1, which featured Ashley getting cozy with runner-up Ben, he and many of the 9 million viewers believed Ashley's heart was his, a misconception that wasn't helped by the fact that she let him drop to one knee and actually propose before rejecting him. Afterward, a hurt and angry Ben, 28, was devastated by her rejection and departed quickly. "I was in love with her…It's not easy," he explained. "There was some anger there." Says a show source: "Ben was in a corner crying; he had to be consoled. He was weeping. He had been so sure he was the one." In many ways, Ashley says she is just as confused by her behavior toward Ben as viewers were, admitting, "I know I'm going to suffer a backlash for it."

If so, that's fine with Ashley, who says that landing J.P. was worth every moment of drama on The Bachelorette. "I've never even looked back for a second on my decision," she says. They're talking about getting married next year – and starting a family soon after that. (J.P. is Jewish, but "I'm not going to convert," says Ashley.) And the months since their dramatic engagement have only fortified their bond. "We're more in love now than we were back in Fiji," J.P. says. "The hard part is over…You make it through something like this together, you can make it through anything."


*Also In This Week's 'PEOPLE'*

-Jennifer & Justin's Hawaiian Romance: "Jen Is In Love, And Justin Feels The Same"
-Emma Stone On Rumored Boyfriend Andrew Garfield: "Well, That's Nice!"
-Kyra Sedgwick: "I Think Of Tequila As A Health Food!"
-Trace Adkins' House Went Up In Flames: "We Are Blessed That Everybody's Okay"

Check out the new issue of PEOPLE magazine - on newsstands now!