'Bachelor' Star Juan Pablo Galavais: 'I'm Not A Bad Guy'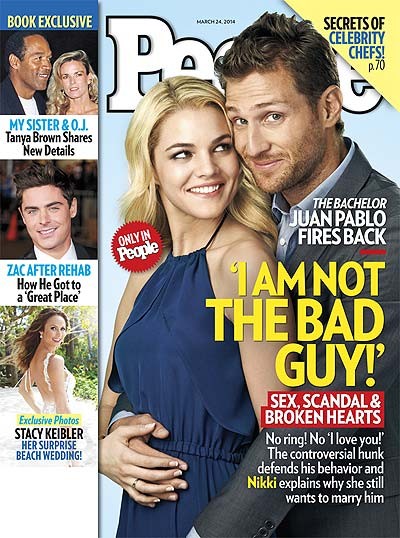 The Bachelor star Juan Pablo Galavis has defended his highly criticized season on the show, saying he's "not a bad guy."

The star sat down for an interview that appears in the new issue of PEOPLE magazine, revealing that what people saw on the show doesn't exactly portray who he is. He also explains why the 18th season finale didn't include a wedding proposal.

"You go on [The Bachelor] thinking if there is the connection, you propose," the 32-year-old told PEOPLE.

"But I don't feel there's a need to propose to somebody if I don't feel 100 percent. I didn't know Nikki [winner Nikki Ferrell]. I want to know more, a lot more."

For now, Galavais and Ferrell are taking things slow and dating, and she has no problem with that.

"Had he gotten down on one knee, I absolutely would have said yes," Ferrell, 27, explains in the March 14 issue of the magazine. "But having a ring on my finger wouldn't stop us from breaking up. What's going to keep us together is having a real relationship. I'd rather have him propose when he feels it's right."

Galavais faced a lot of criticism over his actions on and off the show. In one instance, during an interview he was asked what he thought of a potential gay bachelor on the show and he responded by saying gay culture is "pervert." Galavais since apologized for his comments.

"It's hard because [viewers] saw a character on TV," explains about the bad rap he's gotten. "A lot of things about me were not shown. I'm not a bad guy. People who know me, know who I am."

But despite his apologies and his pleas for a little fairness, Juan Pablo is set to go down as the worst Bachelor in the show's 18 season run. So far.