'Bachelor' Recap: Wife Material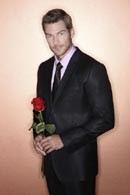 Last week's hometown visits helped "The Bachelor" eliminate professional embalmer and future head of the funeral home, Shawntel N. Did anyone ever doubt that Brad would follow in the footsteps of previous "Bachelor (ette) s" (Jason Meznick and Ali Fedotowsky) who quickly ended their relationship with a contestant whose hometown visit included a brush with death (pet cemetery and taxidermy)? Cool as Shawntel was, she wasn't making it out of the subsequent rose ceremony alive.
 
This week was a bit trickier to determine. We've seen Brad have his ups and downs with all three potential brides-to-be. Nothing like some African safaris and fantasy suites to clarify which two scream "Wife Material" louder than the third.
 
Chantal is up first. The jungle is hopping with giraffes, elephants, zebras, and hippos, but with Brad (and a camera crew) Chantal feels safe. Obviously, there are metaphors for their relationship to mine from this environment.
 
Everything is pretty great on their date, and when the fantasy suite card comes, Chantal is quick to accept. The suite is actually a tree house, and they quickly climb up the steps and resume kissing. A drama-free date pretty much guarantees Chantal will be among Brad's final two.
 
Next up is Emily, who Brad runs towards and then runs from, only to return on the back of an elephant. She's psyched and things continue to go well as they sit around and watch the baby elephants play. Emily is ready to find love and Brad is ready for a five-year-old.
 
Dinner gets off to an awkward start that gets a bit more awkward with the arrival of the fantasy suite card. Emily is concentrating on setting a good example for her daughter, which is so totally not cool to do this late in the game. In fact, it is downright unacceptable, and she knows it. With the rationalization that these are extreme circumstances, she decides to take Brad up on his invitation, hoping that somehow, she's not sending her daughter the message that it's cool to spend the night with a guy who's dating two other girls at the same time.
Up in the suite, Emily tells Brad that she's falling in love with him. He's falling in love with her too. Poor Chantal and Ashley. Don't they know the only way they're winning this thing is if Emily gets cold feet? Madison the vampire was right to get out of there when she did. She knew she couldn't compete with that, and wisely didn't even try. 
 
Ashley, however, will try. She will try hard. She will freak out about helicopters, and then she will continue to try. They sit down for some wine and Brad asks how important that pesky career thing is to her. Can she ease up on that ambition thing a bit? Not likely seems to be her answer. Not wife material at all!
 
Later that night, Ashley gets an opportuntity to redeem herself and gives it the old college (dental school) try. Unfortunately, she neglects to tell Brad that she'll build her life around him and the decisions that he's already made about his life. It's so blatant that's what he's looking for that she actually calls him out on it. I have a million times more respect for Ashley after this exchange, and wish her a successful career as a conscientious overachieving dentist.
Brad is less over the moon about Ashley's comments and insists his chauvinistic ideas for this wife hunt are being misunderstood. How about letting him explain in the comfort of a fantasy suite, Ash? She's amenable and they settle in, hoping the change of scenery will help them salvage their lost connection. Sadly, fascinating observations about mosquito netting consume their conversation and it is pretty clear that things are over between them. 
 
Chris Harrison meets Brad for the pre-rose ceremony debrief and they discuss how they can stretch a pretty foregone conclusion out for another half hour of television. Maybe Brad can pretend to give Ashley one last chance to change his mind. Yeah, that'll work. He'll pull her aside at the rose ceremony and they'll talk about how far they've fallen since their great carnival date, examine their relationship's downward spiral, and  brings up some interesting questions for all of us to contemplate.  Should 'The Bachelor' focus on finding a wife or finding love? Can contestants with goals outside the scope of a final rose and a ring succeed on this show? Meanwhile, Brad is stammering away. Can we fill a few minutes and talk? Filler. Blah, blah. Building a blah, blah. Questions blah, care so much, blah, too blah, have to blah, blah, blah, bye Ashley. Sigh.
 
Ashley gets it. She's not wife material. She gets up to say goodbye, and Brad's all, Wait that's it??? Uh, yeah. She's not going to beg for a rose and he doesn't want that (well maybe a little) so, yeah, that's it. Ashley is sent home and even though Chantal and Emily have been waiting on that lawn for a rose ceremony for a long time now, Brad needs a few more minutes for contemplative stares on a balcony before he's ready to return.
 
In the middle of that melodrama, the new cast of "Dancing with the Stars" was announced. Vying for the prestigious mirror ball trophy and healthy boost in relevancy is: Sugar Ray Leonard, Chelsea Kane, Romeo, Ralph Macchio, Petra Nemcova.  Kendra Wilkinson, Hines Ward, Mike Catherwood, Wendy Williams, Chris Jericho, and Kirstie Alley. It's the usual mix of athletes, reality stars, loudmouths, and has-beens that sadly lacks the polarizing personality of a Bristol Palin or Kate Gosselin.
 
Also lacking, is a third girl at a rose ceremony which Chantal is quick to note. Brad returns sans Ashley and apologizes for leaving them alone with the roses, which he still wants them to formally accept. No shocking twists or turns here. Both girls take their roses and get ready to meet the Womacks. The hippos look up from the water once that embarrassing formality is over with, and Brad starts to sweat over the imminent marriage proposal that he absolutely, positively MUST deliver at the final rose ceremony in two weeks.
 
Before that – it's "The Women Tell-All" where rivalries we'd long forgotten about are re-ignited, Ashleys are reunited, and crazy contestants get to go crazy again. Who are you excited to see? Who will make Brad cling to his chair the tightest?