'Bachelor' Recap: Send In The Clowns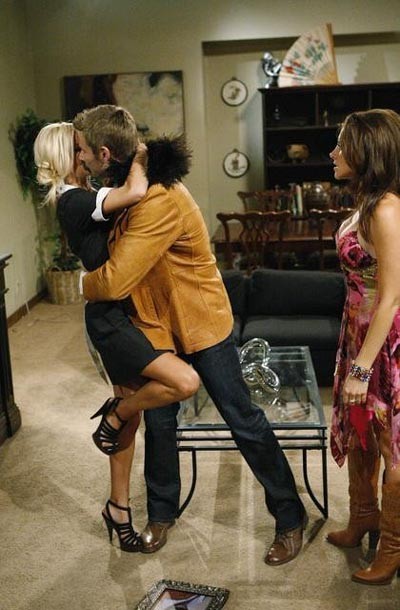 We knew Brad's second outing as 'The Bachelor' was bound to become a freak show eventually, but we didn't think it would happen this quickly – or literally. Right after move-in, Ashley the dentist scores the very first one-on-one date with Brad, and it's (ta da!) a private carnival, complete with tents that advertise attractions like MIDGET HORSES and DADDY ISSUES.
 
Since he's a changed man, the bachelor jumps right into tent #2 for some serious talk about commitment, abandonment, fear, and redemption.  The date would be a total downer if not for the teddy bears, ferris wheels and wine. Luckily, all these side shows add up to an amazing date,  and after Brad sucks her face up like a vacuum cleaner, Ashley gets a nickname ("Ash") and a rose.
 
In keeping with the freak show theme, the producers stuff as many clowns in a car as possible and send them to meet Brad for the show's first fifteen-on-one group date. Also on hand, a few unfortunate representatives from the American Red Cross that got caught in the middle of this mess. They talk about the importance of giving blood (Vampire Girl licks her lips – obv) and tell the gang that they're going to spend the day filming PSA's to spread the word. Hmm… that sounds kind of nice. Charitable even. Something's not right….
 
What our unfortunate Red Cross reps failed to mention is the disgusting amount of  face sucking and spit swapping Brad will be doing in the quest to get some new blood for the organization. Leave it to "The Bachelor" to make a mockery of its own philanthropic efforts, by putting a little too much Service into the Public Service Announcement. Shameful.
 
After the grossness of the PSA shoot, the clown car drives over to the Roosevelt Hotel for some rooftop pool action. Kissing is out and crazy is in. The Cougar and The Manscaper get into a fight about nothing. Michelle insists on getting some attention for turning 30 and Brad obliges with a rose. She spins it around in the air like an idiot who is about 2 Pinot Grigios past her limit, and gives her interview with the rose between her teeth.
 
Meanwhile, back at the pad, a date card arrives for Jackie, the buffoon who made the mistake of thinking that because she looks a little bit like Lea Michele (or Idina Menzel), she should sing on television. Just don't do it.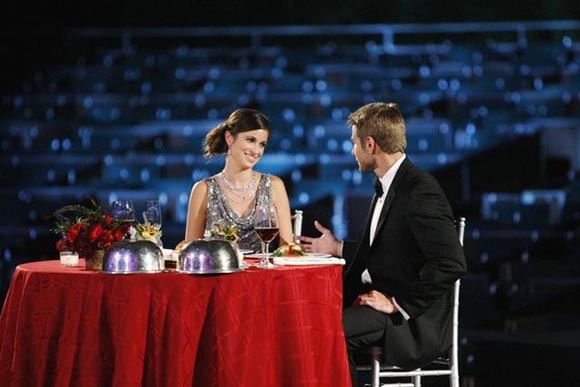 Jackie gets to be "Pretty Woman" for t he day. Mud masks, ugly dresses, Neil Lane product placement. Meh. It's not "Pretty Woman" without a snooty store clerk on Rodeo Drive. Big mistake… huge.
 
Next stop, the Hollywood Bowl. Jackie and Brad have dinner and talk about previous relationships. Brad's worried that Jackie's too guarded to give her heart over to him and the magic of this ridiculous process. Go Jackie! A rose and a private concert from Train (attempting to get people to listen to any other song besides "Hey, Soul Sister") end the night on a high note and Brad proves that he can kiss a girl without attaching himself to her face like a piranha.
 
On the night of the rose ceremony, Michelle grabs the crazy crown right out of the gate and steals Brad away for some pressing questions. Starbucks or Coffee Bean? What items are always in your fridge? His answers prove to Michelle that they are obviously soul mates, but it is Emily, the pretty single mom, who comes along and makes Brad "lose his words."
 
Starved for attention, the Cougar and the Manscaper continue their rivalry over nothing and keep telling each other to walk away. Raichel (Manscaper) says something about the Lord loving her and that's why she'll stay. A sound argument but Melissa (Cougar) opts to get her passport to next week by going right to Brad and telling her sob story. Raichel sees that and takes some insurance out in case the Lord doesn't care about her success on "The Bachelor," and offers her own version of the week's events, with tears and all.
 
Chris Harrison finally arrives with a reprieve from this inane fighting. Unfortunately, instead of a rose ceremony, he's got the next guests in the parade of alums that are popping up this season. Ali and Roberto are on hand to help Brad sort through the hot messes and identify who's there for the "right reasons." Ali should be good at this. She only kept two guys with girlfriends around for way too long on her season.
 
Ali (sans hair extensions) and Roberto (adorable as ever) conduct interviews and make it clear that unlike other alums, this will not be a career path for either of them to pursue.  They endorse Emily, warn Brad to beware of the crazies, and conclude a rather unexceptional cameo.
 
Brad hands out his roses and sends three of the bachelorettes home. Both Cougar and Manscaper fall, along with Keltie the Rockette, who had the unfortunate distinction of playing the butch neck brace girl in the PSA.  Now she's down with love and sticking to kicking, and based on the closing credits, making up fun, impromptu raps about the other girls. At least the producers attempted a mea culpa and tried to show the girl in a positive light before kicking her back to the chorus line.
 
Next week, big dramz in the works. Who's going home? Is Michelle going to burn out on crazy before Vampire Girl sinks her teeth (fangs) into that role? Who's next in the parade of alums? Are you liking Brad more this time around? Does he remind you a little too much of Jake for your liking? Let us know!