'Bachelor Pad' 2 Finale Had It All: Winners, Hugs, Breakdowns & Proposal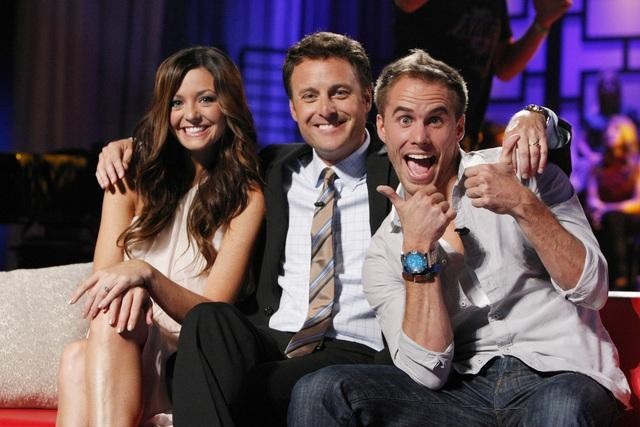 Michael Stagliano and Holly Durst were named the "Bachelor Pad" season 2 winners and the winners of $250,000 on part two of Monday's season finale. While some viewers may have thought Michael would go rogue and run off with the money due to recent, extremely awkward developments, the couple did decide to share the money, with Michael citing that Holly was always loyal and will always be his partner.
Despite no longer being a couple, Michael said it was loved that carried the pair through the game, adding that he could've punched Blake and fought with Holly but that wouldn't have won him $250,000.
Finale, part one:
For the final challenge of the season the four remaining teams of two traveled to Las Vegas to compete on the stage of Cirque du Soleil KA. The teams were put in special clothing and harnesses and challenged to perform a 60-second choreographed routine on a large, vertical wall. Ten seconds had to be choreographed by each couple, and Holly's idea was by far the best, for which she suggested she kick ex-fiance Michael and run away from him; ah, how our actions show our true emotions! The challenge's judges were former Bachelor Jason Mesnick and former Bachelorettes Trista Sutter and Ali Fedotowsky, and after all four couples performed, the judges deemed Kirk and Ella the worst of all of the routines – which unfortunately meant the couple had to leave "Bachelor Pad" immediately. Ella was terrified during practice and the performance – who could blame here? – and the judges said the performance lacked showmanship, which is understandable since it's hard to play a character when you're afraid you're about to die – unless, of course, you're playing a character who's about to die, in which case bummer that wasn't the story!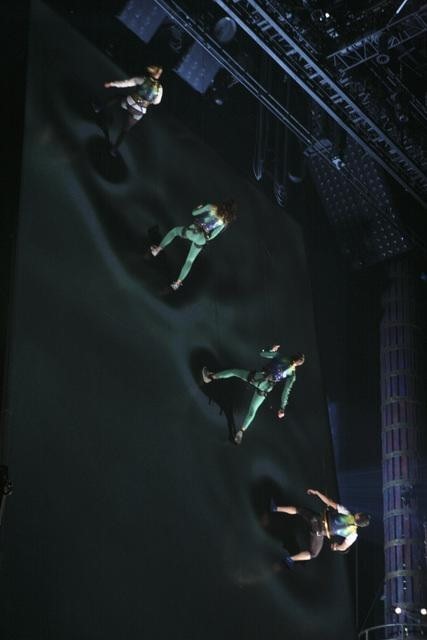 Vienna  and Kasey were eliminated at the final rose ceremony, just missing the Final 4 and the dream of winning $250,000. The couple's plea to Michael and Holly, who held all of the power after winning the week's challenge, to stick around was decent but obviously didn't work. Kasey basically told the couple they know they won't get the votes for the final prize but that they feel they deserve to be in the Final 4 because they've done everyone else's, particularly Graham and Michelle's, dirty work. It wasn't an invalid point, and Holly and Michael would've been really smart to go that route, but the couple said they'd rather take the selfless route and risk losing the money than continue to be selfish in a game that feeds on selfishness like sharks feed on guppies (OK, he didn't say that last part, but it would've made for great television!).
Finale, part two (live audience portion):
As I reported earlier in the season, Ames Brown and Jackie Gordon are no longer today. On the finale, Jackie said she spent a lot of the summer trying to figure out what she did wrong and why Ames didn't try harder to make it work. Ames told viewers he learned once out of the house the two were very different people and refused to drag it on longer than necessary. It was heartbreaking to listen to Jackie talk about not being able to get out of bed for one week because she was so blindsided and so devastated, but it was equally painful to see Ames so in pain that he never looked her in the eye. Of all of the "Bachelor" / "Bachelorette" / "Bachelor Pad" love stories, this was one of the few viewers really wanted to work.
William Hoffman grew a pair and spoke up against alleged power couple Kasey Kahl and Vienna Girardi while the rest of the houseguests kissed their feet. Gia Allemand made a great point of Kasey being incredibly smart and creating a great dynamic for himself and Vienna to continue in the game, but William's point was even better, with him pointing out that the couple never won a competition and did nothing but stab people in the back. There's the William we all know and love!
Vienna told viewers she and ex-fiancé Jake Pavelka have found closure (Jake denies this). When viewers didn't buy that Vienna was nice to Jake in the house but no one watching saw it, Erica Rose and Kirk DeWidnt stepped in to defend Jake and reiterate viewers' believes that the fight was incredibly one-sided, with Vienna on the not-so-nice side, which made fire come out of Vienna's eyes and ears for a very pretty lightshow. After shutting Vienna up without saying a word, Jake joined Chris Harrison on stage, where he described his first meeting with Kasey as "cold as ice" and defended himself against those that call him a terrible person, apologizing once again for the way he treated Vienna on their breakup special. Vienna tried to smooth things over with viewers by bringing up a charades game they played, but no one backed up Vienna's claims, not even Kasey. And once again, just like on "Bachelor Pad," Jake let Vienna dig her own grave, not speaking unless spoken to – a bold mood that, like on the show, made Vienna look like the devil. The best part of the meeting was Kasey apologizing to Jake for his actions and statements on the show, with the pair hugging it out. There was a moment when I thought it was a PR stunt, but Vienna gave Kasey the scariest look on the planet after, so I'm thinking Kasey actually meant what he said.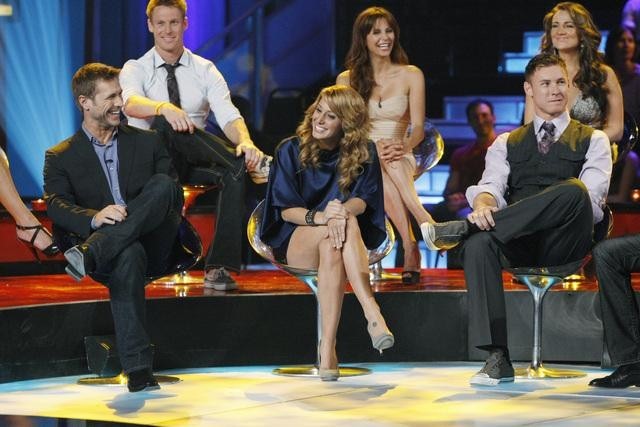 Kasey also had the chance to sit on stage with Chris Harrison. He was emotional on stage and said he didn't like the person he saw when watching the episodes. He said he was mean and manipulative, but the person on "Bachelor Pad" was not the person he is in real life. When asked about the state of he and Vienna's relationship, Kasey broke down, saying it is a "continuous struggle" to be happy again and saying he doesn't want the relationship (with Vienna) he saw on the episodes. Vienna's take was it was extremely difficult to watch their arguments each week, especially with America judging every word said.
One person we were all dying to hear from was Blake Julian, especially with news of his engagement to Holly Durst leaked last week. In regard to his partnership with Melissa Schreiber, he said he probably wouldn't play the game the same a second time. Melissa said the reason she was so confused was because Blake said he didn't want an on-air romance but then kissed her, so she let her guard down; she did, however, admit that the pair never discussed having a true relationship. Melissa has claimed she and Blake have hashed things out and are fine, but it didn't sound as if that was the case. Things were awkward, and they seemed angry. On to a happier note, as mentioned above, Blake and Holly are engaged. Viewers saw video of their proposal, which only adds fuel to the fire that the entire thing was set up by the show, but in the grand scheme of things even a phony happy ending is better than no happy ending at all in the world of reality TV. Of course, in true reality TV fashion, the news was broken to Michael on stage – although, it appeared neither Holly nor Blake wanted it to go down like that. Michael was stunned and asked for a commercial brake, but filming continued. He said he wanted her to be happy but wished he hadn't found out the way he did.  
Viewers who didn't watch "The Bachelorette" got the chance to meet Ben Flajnik, the next star of "The Bachelor" and Ashley Hebert's runner-up. We saw scenes from his time on "The Bachelorette" while hearing him talk about how meeting Ashley changed his life and prepared him to be the Bachelor. Ben was then brought on stage, where he told viewers he is in a better place now and is able to open up more to his bachelorettes. He said he is very nervous about the first night but is looking forward to the experience as whole. I'm a huge Ben fan. I think he is smart and charming and one of the good guys. I'm not, however, excited about another reused Bachelor or Bachelorette. I understand ABC's reasoning (guaranteed viewership), but I look forward to the day viewers get some new blood.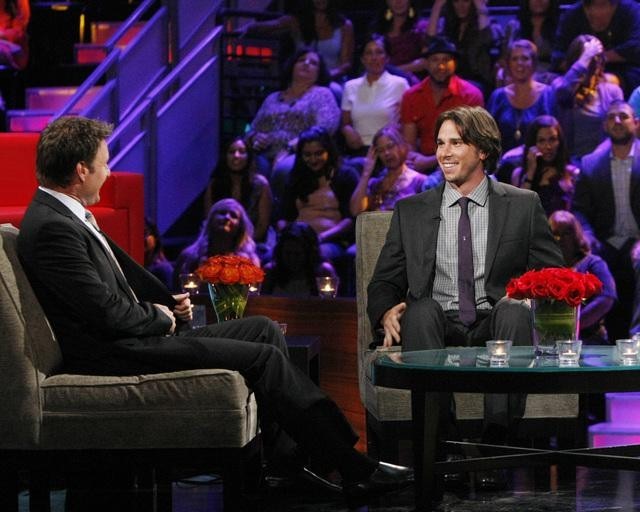 For more TV recaps, news and interviews, follow Amanda on Twitter and Facebook, and click Subscribe at the top of this page for automatic updates.