'Bachelor In Paradise' Recap: Paradise Says A Fond Farewell To, Uh... What's-Her-Nuts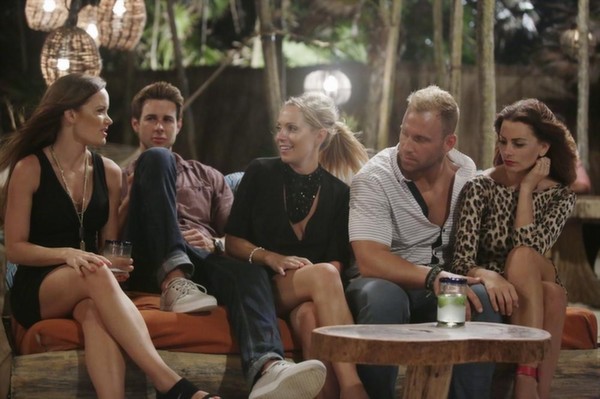 Yesterday was tough. Night sweats. Day sweats Full-body, uncontrollable itching. And all because we had to wait another day to find out if Graham actually accepted AshLee's rose (note: if you actually suffered symptoms because you had to wait a day for more "Bachelor in Paradise," please call an ambulance. And then a good psychotherapist).

But at long last, the wait is over. AshLee said those fateful words: "Graham, will you accept this rose?"

And Graham took a minute to think it over, then fled the stage at full speed. And when we pick up tonight, Graham's still fleeing. And sweating. Really sweating; the guy looks like he just climbed out of a very stressful hot tub. He's clearly having an anxiety attack, but at least he's got his good friend Michelle to care for him and grab him a glass of water.

Not AshLee though. She will stand on that rose ceremony stage, and she will wait this little "anxiety attack" thing out as long as she has to, so long as Graham eventually comes back and says yes. Ever the caring girlfriend, AshLee.

And Graham eventually does come back, and after recovering from that little oh god oh god oh god this woman is insane I can't keep dating her episode, he gladly accepts her rose. Why? Stockholm Syndrome, probably.

Finally, we can put all this drama behind us. Well, all of us accept Lacy, who's so upset that Graham would accept the rose of a two-faced harpy that she flees the stage herself, and proceeds to barf herself into a medical emergency. It's upsetting (also, gross), but it gives her and Marcus a little couples' bonding time.

Now, to do what we should have done on Monday. Ready?

And the losers are:

Kalon, who shocked the world by accepting a date from no one. And then accepting a rose from no one. A miraculous display of unlikability.

Marquel, a genuinely decent guy who was beaten to Jackie's affections by the biggest player in the house. Oh, Marquel. We'll miss you. And presumably so will the other contestants, as they'll no longer wake up to a fresh-baked chocolate-chocolate-chunk cookie on their pillow every morning.

(In case you weren't aware, Marquel first rose to "Bachelorette" prominence as a cookie connoisseur).

You don't deserve to leave like this, Marquel. Mostly, though, you don't deserve to be lumped into a category that also includes Kalon. That guy's kind of a douche.