'Bachelor' Brad Womack makes his choice; plus, his rejected bachelorette speaks out – March 13-19, 2011 Reality TV highlights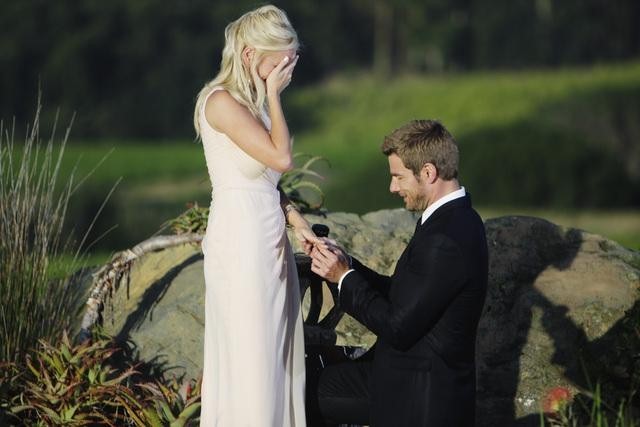 "Bachelor" Brad Womack made his final choice on Monday, giving his final rose to Emily Maynard on the show's season finale. Brad and Emily spoke out for the first time since Brad proposed on the After the Final Rose special, although viewers were probably shocked to hear about the rollercoaster the couple had been on since that day. Not only had the couple almost wed twice, but they had broken up once. They assure viewers they are still engaged, but on Tuesday, Brad released a statement requesting privacy while the couple works out the kinks in their new relationship (full statement here). But while Brad and Emily are keeping quiet, Chantal O'Brien – Brad's runner-up – and "Bachelor"/"Bachelorette" host Chris Harrison were more than willing to talk about their time with Brad during the season.
Winter 2011 TV schedule + March/April premieres
Top reality TV highlights from the week of March 13, 2011:
China was nothing less than a nightmare for Kent and Vyxsin on Sunday's "Amazing Race: Unfinished Business," and the to-be-continued episode left viewers wondering if they would be the next team eliminated. First, Vyxsin nearly lost her cool while searching for the team's car. Then, the team missed their designated flight due to Vyxsin directing them hours in the opposite direction of the airport. And when it seemed as if things couldn't get any worse, the team realized Kent had left his fanny pack with all of their important documents at the location of the Detour, which was fairly far behind them. /// Full recap
As mentioned above, Brad Womack proposed to Emily Maynard on the season finale of "The Bachelor" Monday. Before the proposal, though, Emily and Chantal met Brad's family, who gushed over both women but couldn't hold back their feelings that Emily was the perfect woman for Brad. And while Brad and Emily are together now, their final night together filming was a disaster, with Emily basically questioning Brad's motives for requesting to be a part of her daughter's life and, ultimately, be a father to little Ricky. In the end, the conversation meant nothing, and Brad sent Chantal home in tears after telling her he had stronger feelings for another woman.  /// Full recap /// After the Final Rose recap /// Chantal O'Brien interview /// Chris Harrison interview /// Emily Maynard's 3-carat engagement ring (photo)
Last week, "Biggest Loser: Couples 4" mixed it up with team captains; this week, the show mixed it up by ridding campus of Black versus Red, creating the Blue team. The Blue team was challenged to lose more than 64 pounds (their total weight loss from the previous week) with the goal of team immunity. Unfortunately, even with big numbers from a few male contestants, the team came up nine pounds short and was forced to send someone home. No surprise, Marci urged the team to send her home, and also no surprise, the team respected her decision. /// Full recap (list of pounds lost per person)
Ometepe may be focused on ousting Krista and Stephanie from their "Survivor: Redemption Island" tribe (p.s. – they checked Krista off their list this week), but Stephanie is focused on making it to the merge just so she can ban with Boston Rob to take down the tribe members who took out her one and only, Russell Hantz. Stephanie and Krista met up with Rob and Grant at the duel, and Stephanie made her intentions clear, with Rob staying quiet but looking open to the alliance. Granted, Stephanie should keep in mind the merge is probably a while off, and until then, she is fighting alone, but you can't blame the woman for thinking ahead. /// Full recap
"America's Next Top Model" viewers said goodbye to Sarah Longoria on Wednesday's episode after Tyra Banks her judges began tired of seeing a lack of confidence from the model. Sarah was quiet and subdue through the entire competition, but each week she seemed less and less confident with her look, which, by the way, Tyra loved. This week, she was called out for being sloppy during the runway challenge and for being hard to direct during a commercial shoot. /// Full recap
America said goodbye to "American Idol" Top 13 member Karen Rodriguez this week. She fell into the Bottom 3 after singing a song from her birth year (1989), which was the theme for the week. /// Full recap 
Bonus
ABC announced its next star of "The Bachelorette" – Ashley Hebert, who was the second runner-up for the most recent season of "The Bachelor."
ABC announced a premiere date for its new series "Extreme Makeover: Weight Loss Edition," which will follow eight "super obese" people during their 365-day journey to lose half of their body weight. When will it premiere?
TLC will air "Charlie Sheen: On the Brink" this coming Sunday (March 20). The documentary examines Sheen's childhood, his struggles with addiction and his recent wild antics. TLC also promises all-new interviews, although it does not say with whom.
TLC released its Royal Wedding Week lineup, which celebrates the coming marriage of Prince William and Kate Middleton. The week includes a special princess edition of "Say Yes to the Dress," "Untold Stories of a Royal Bridesmaid," a royal edition of "What the Sell?" and "The Making of a Royal Wedding." What other specials will the week feature?
For more TV recaps, news and interviews, follow Amanda on Twitter  and click Subscribe at the top of this page