Baby Superman Poops On Russell Crowe In 'Man of Steel'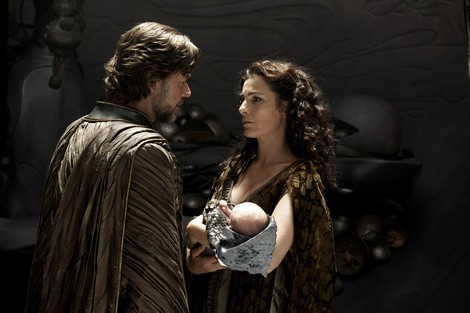 In the movies, the role of Superman's father goes to an actor often more legendary than the Superman himself. Marlon Brando played Jor-El in the original Superman: The Movie. In Man of Steel, we get Russell Crowe as Jor-El, the Gladiator himself sending his son away to earth. 
A father himself, Crowe shared stories of infant accidents from the babies who played newborn Kal-el. "On this movie, I got farted on first," Crowe said. "That was okay. Pissed on, that was a little inconvenient, then the topper happened happened. Under those hot lights, it was after lunch, to be expected, and I got a handful of the essential Kryptonian material."
These are normal mishaps to most new parents, but Crowe said he'd avoided those with his own children. It took playing a superhero's father to get the bodily fluid hazing due any parent. 
"In my own experience as a father of two, I've managed to dodge all the piss and the poo even though I'm pretty slick with a nappy," Crowe said. "I had a very interesting experience being a father on this movie. I think [director] Zack [Snyder] employed four babies as the recently born Kal-El, so I learned a lot. I had new experiences as a parent on this movie that I hadn't previously had. So thank you, Zack."
Man of Steel opens Friday.