'Baby Boom' For A New Generation: Top 5 Unlikey Mothers In Film

More than a decade after high-powered corporate, suit-wearing
J.C. Wiatt
inherited a baby that changed her life in
Baby Boom
- and in many ways how people viewed single, career-driven mothers - the story has been redone.
In
Baby Mama
, opening Friday,
Tina Fey
plays a thirty-something, upper middle class woman who wants to have a baby but can't and opts for surrogacy. Enter the blunt and often abrasive
Amy Poehler
, who Fey hires and then invites to live with her in this female buddy comedy flick. So in honor of the transformation the pregnancy causes not only on these women as individuals but also as friends, here is a look at the Top 5 Best (Though Unlikely) Mothers in Recent Film: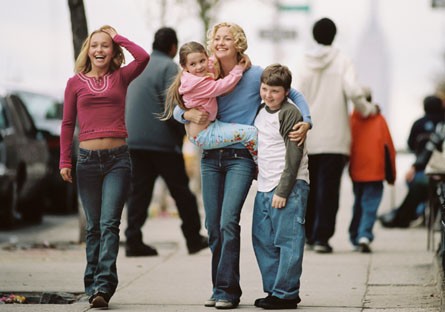 Helen Harris
(
Kate Hudson
,
Raising Helen
) is a free-spirited party girl living the club life in one of the most alive cities in the world, but when her sister gets into a tragic car accident and leaves her three young children to Helen, she is forced to take a good, hard look at her life and reevaluate what's important. Though her older sister (
Joan Cusack
) seems to be the more obvious choice of surrogate due to her already thriving home life, Helen perseveres and soon comes to realize she needs these kids to teach her about life as much as they need her guidance.
Novalee Nation
(
Natalie Portman
,
Where The Heart Is
) is the
Jamie Lynn Spears
of her own small town. Her boyfriend leaves her pregnant, underage, and alone at a Wal-mart, which is where she stays right up until she gives birth - on the floor in one of the aisles. Deciding to keep and raise the baby alone, Novalee grows up quickly, embracing the unconventional, eccentric, hodgepodge of a family made up of the residents of the new small town to which she loves as her own. While teenage pregnancy is not advocated in this film, Novalee certainly sets a strong example for how one can turn her life around even in the bleakest of circumstances.
Nina Banks
(
Diane Keaton
,
Father of the Bride Part 2
) is already a mother two times over with a large age gap in her children when she learns that she will deliver a third - right around the same time her daughter (
Kimberly Williams
) is having her first child. Needless to say, the news is a surprise, but she rises to the occasion and embraces the new pregnancy the way other women her age embrace hot flashes. Bonding through swollen ankles and odd, all-hours-of-the-night cravings, she and her daughter grow even closer as she shares her past experiences and welcomes the new ones with open, though slightly chubby, arms.
Similar to Helen Harris
Kate
(
Catherine Zeta-Jones
,
No Reservations
) inherits her niece after a car accident takes her sister, and the high-strung, high-powered chef is forced to curb her anal retentive ways and loosen up in order to let someone else in - not only to her apartment or her kitchen, but also to her heart.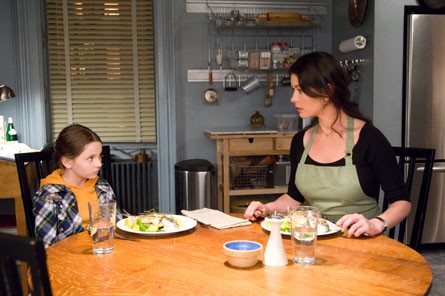 Though she stands accused of homicide,
Dolores Claiborne
(
Kathy Bates
,
Dolores Claiborne
) makes all of her decisions with her daughter's (
Jennifer Jason Leigh
) best interest in mind. In fact, a questionable death actually brings her estranged daughter home and acts as the catalyst needed to re-examine their bruised relationship. Though Dolores' actions are unconventional and at times the film plays with suspense by making the audience believe she is a sociopath, deep down, her intentions toward her child are pure. When she admits certain abuses from years past, she does it not to acquire sympathy or pity but in an attempt to start her daughter on a path of healing. With one look at her daughter, Dolores can tell she is still haunted and pained by the past and doesn't want her daughter to suffer with living one day just to get to the next.
And honorable mention must go to
Sonny Koufax
(
Adam Sandler
,
Big Daddy
). All right, so he isn't technically a woman, so he can't technically be considered a mother, but he certainly fits well into this category as he was someone who just opens the door to find a kid standing on his welcome mat, but he rises to the occasion to take care of the child... even without having any blood relation to him. His relationship with Julian (
Dylan and Cole Sprouse
) turns him from a prolonging adolescence slacker to a full-fledged adult, learning how to care and provide for someone else, so that when he has his own child later on, he is more than ready and can no longer be called an "unlikely" parent.
Story by
Danielle Turchiano
Starpulse contributing writer